D-e-l-i-c-i-o-u-s, absolutely delicious! A chocolate cake with thin squares of chocolate scattered inside. I ate far too many slices but fortunately I still managed to drop an additional 3.5 pounds over the holiday/birthday...not sure how I managed that!
A huge thank you to Cathy for the wonderful birthday surprise!

I just opened her package and found this beautiful pendant that was designed by one of my favorite designers, Deborah Thorpe of
Midsummer Night Designs
.
Hmmm, how pretty would this look on a silver chain?

Or maybe I will look through my Midsummer Night Designs patterns and find one that I can attach the pendant on to. Then again, I may take one of Cathy's suggestions and use it on an ornament.

For now, and maybe always, the pendant will be placed on my silver necklace so that I can enjoy it throughout the year.
Thank you my friend for the amazing birthday surprise. I cherish your friendship!
Let me share with you the Christmas gift that Cathy sent ~ this beautiful ornament...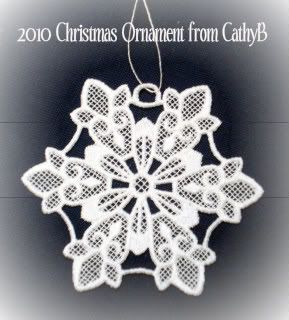 Knowing how very talented she is I first thought that she made this but found out she purchased it at a craft fair. Thanks you again Cathy!
When I saw Cathy's post with all of the GORGEOUS tatted ornaments made by her talented Mom I quickly emailed to see if I could purchase some. Here are a few that I ordered…
I did give a few away to friends of mine who loved them and asked if I made them. Yes, I told the truth and gave credit to Cathy's mom.
These beauties are on the top of my list of favorite ornaments. I love them so much that I refuse to put them away until next year. They remain on my vintage fir tree so that I can see them daily! Many thanks to "Mom" for filling my order on such short notice.
Now that the holidays are over it is time for me to take a look at ALL of my UFO's and to determine how I will manage to complete some of them. My life is a bunch of unfinished projects! Yes, my goal for 2011 is to finish, finish, finish so much of what I have started and cast aside.
I hope that your holiday was enjoyable and that the New Year brings you much happiness and many hours of enjoyable stitching time.