I participated in the
USEBB
: Tin Topper Exchange and stitched this design for Goldie. Just weeks before I sent my Redwork Exchange to Goldie as well! With the assistance of Vonna's fabulous
tutorial
I was successful in finishing off the inside~thanks Vonna!
Fabric: 40 Ct R & R Antique Linen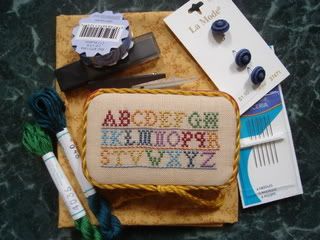 USEBB Tin Topper Exchange


My Halloween Exchange is now complete and am getting it ready to mail off. I have been so good about limiting the number of exchanges I sign up for, I only have 2 exchanges left (Harvest and Christmas Ornament). Starting in January I will once again be signing up for many exchanges.


I also completed the stitching on one PIF and hope to complete the finishing by the end of the month.


Although I do not have a picture to post, I did complete the first block in the Village of Hawk Run Hollow SAL. The first block is not a favorite of mine so I was glad to complete it. For those that have not yet completed their block you still have 5 days left! Block two will run from Oct 1-31st ~ I got a jump start and have a tiny bit stitched.


Friday I will be heading to Hershey, PA for the cross stitch show (CATS). I attended last year and really enjoyed it. I will also spend a day in Lancaster visiting the many, many fabric shops. My first stop in PA will be at Wawa's for a huge cup of their great coffee...can't wait!


Thank you so much for stopping by and for your many kind words!
Until next time...