The
mail carrier was good to me yesterday; he left two wonderful packages in the mail. The first was from
Patti
who stitched for me in the
Year Long Prairie Schooler
exchange. She stitched this pretty design on 40 ct and used a great decorative trim on the edge, very nice choice!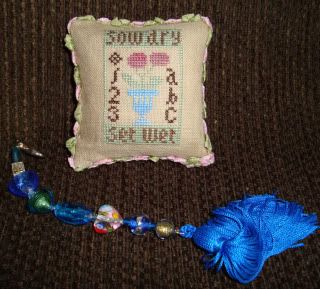 Year Long Prairie Schooler Exchange
Stitched by: Patti
Patti
included a gorgeous beaded fob that she made ~ the beads are beautiful. Thanks you so much Patti I love what you sent.
This
is what I stitched and sent to
Lillie
:
Next
, I received an amazing exchange from
Ronel
who stitched for me in the
FTT
Needlework exchange. I am not certain that the pictures will do this justice…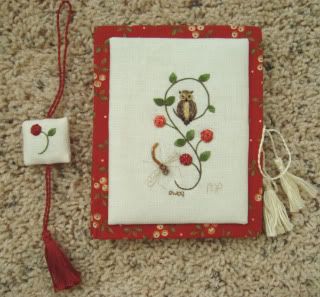 Ronel
is a master at Stumpwork and I am truly honored to own a piece of her work. The detail on this is amazing; can you see the owl's eyes? They are tiny! The flowers are a combination of red seed beads and French knots (?) and the dragonfly is made from beads with wings stitched in gold thread. The stitching is perfect in every way.
Oh
, did I mention that it is a needlebook? This too is perfectly constructed. Given the range of Ronel's talent, I imagine that she made the lovely pins as well. Ronel also stitched a beautiful little scissor fob, personalizing it on the back with my initials.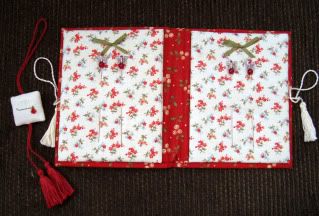 In
addition Ronel included some Madeira Silk threads (in my favorite color), needles, a pink tape measure, charms, and a fragrant sachet. Thanks you so much Ronel for a wonderful exchange!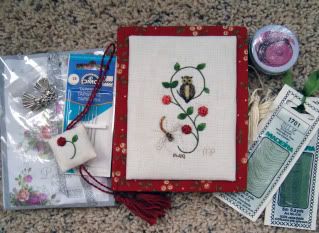 FTT Needlework Exchange
Stitched by: Ronel
Finish: Stumpwork Neeldebook and Fob

Designer: Little House Needlework
Finish: Needlecase

I
took a trip to San Antonio this past weekend and stopped in at
Cross Stitch Plus
where I managed to find a few "must have" patterns and a bit of fabric: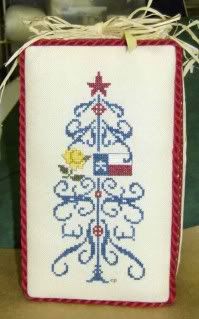 Blackbird Design
Glorious June
I
also managed to find two floral frogs and a dish for one of the frogs. I saw this on a blog (sorry can't remember who posted this fabulous idea) and loved it.
What a great scissor holder!!!
Thanks
for stopping by and I do hope that you find time to stop by again~