I just returned from Vermont where I spent 12 days house hunting and stitching, more stitching than house hunting...that is always nice. I had the opportunity to play "catch up" especially on my VoHRH. Having missed the January 1st deadline for block #3 I was finally able to complete it on Jan. 20th. I wanted to try to complete a second block before February 1st so I started on block #5 and will finish that tonight. After stitching and re-stitching this brick house I could not bring myself to start on the house in block 4! Not sure what the problem was but I struggled with all of those bricks!
VoHRH Block #3
VoHRH Block #5


VoHRH as of January 29, 2008
Hannah
, my Fair & Square partner for round #4, sent this wonderful exchange a few weeks ago. I was in Vermont thus unable to post pictures. I just love this block, I have all four charts of this Bent Creek Wonderland and have wanted to stitch them. I was treated to two fantastic Workbasket leaflets; I love all of their designs and happen to be stitching one for an exchange right now. Hannah used the instructional link that I posted for the "tissue holder" and did a great job making one for me. She also included some adorable snowman buttons and some piecemakers needles. Thanks Hannah, you made this such a special exchange!
I was also able to complete my "Hello Neighbor" Round Robin and will be sending it off tomorrow. I am anxious to see this neighborhood grow, and thankful that I was able to join this group!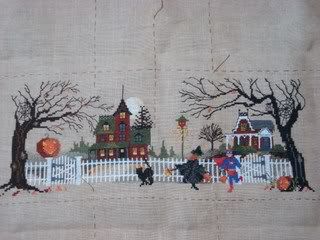 I will leave you with a few picture of winter/summer in Vermont…