I have been so bad about posting lately!!! However, I must share this Fall exchange with you.
I participated in the
SBEBB
Harvest Time Exchange and received a gorgeous exchange from
Nicki
~ She selected one of my favorite designers, Bent Creek and stitched the design over 1. Oh how I love over one! Nicki's stitching is gorgeous, I am so impressed. She finished into a darling
pinkeep
~I feel so lucky.
SBEBB

: Harvest Time Exchange
Designer: Bent Creek
Stitched By: Nicki
She also surprised me with SIX very pretty specialty threads. Those silks feel amazing!In addition she sent my way a lovely piece of green hand dyed linen. I am so in need of a larger stash so THANKS!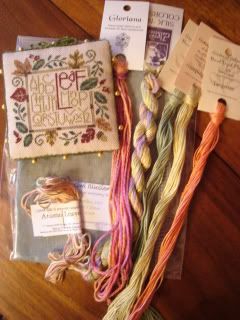 Harvest Time Exchange from Nicki
Leena received my Seasonal
stitcher's
Fall exchange so I can share this picture with you. With the help of
Vonna's

tutorial
I finished it off as a flat fold.

Seasonal stitcher's Fall Exchange
Designer: Homespun Elegance
Design: Wishing Thee Plenty
Stitched for: Leena
USEBB
Ornament Exchange and it will be mailed out tomorrow. I will post pictures as soon as I hear that it has been received.
Block #2 of
VoHRH
is complete, Yahoo!!! I had planned to photograph it today but life got in the way. I will post a picture on or before the 12/1 deadline. I look forward to seeing
everyones
progress pictures, even if you did not complete the block be sure to share a photo.
Hope
everyone enjoyed their holiday. I am still full!
Until next time...