This
wonderful Patriotic Exchange that I received from
Carol S.
It certainly is a beauty, take a look…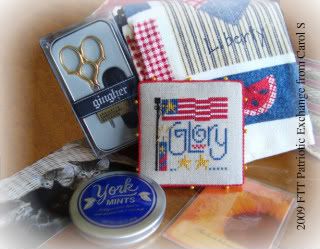 Designer: San Man Originals

Opening her package was the highlight of my day! Carol's does such gorgeous work I could not have been happier to see her name on the return address. She selected a very nice design by San Man Originals and finished it as a pinkeep; I love it! In addition, she sent me beautiful Gingher scissors, patriotic dishtowels, very pretty bookplates, and tasty mints.

Carol your generosity is amazing, I cannot thank you enough for all that you sent! You certainly made this an extra special exchange!

Dear
sweet
Vonna
will be celebrating a birthday very soon so I decided to send this little gift off a bit early so that she could display it over the 4th of July (we know how she loves all things patriotic). When I saw this
Annalee
Patriotic Elf he was screaming Vonna's name. I also knew that a Pinkeep would fit perfectly in his hands so I stitch this Birthday Pinkeep...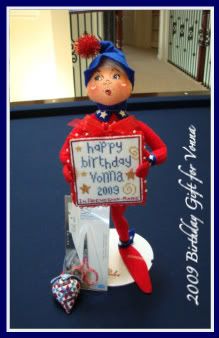 The Pinkeep is reversible with the other side looking like this: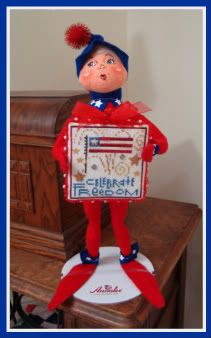 I absolutely love how this turned out, cute huh?
When I saw this next design I knew immediately that I had to stitch it for my cousin. I call her my "direct link to God" and call upon her to "pray for me" with every "crisis" that I encounter. :) Now that I live far away from her I want to make sure that she constantly thinks of me (not sure that will happen but I am going to try). I am hoping each time she glances at this two things happen:
"When This You See Pray For Me"
There is another person in my life that is deserving of this same design and when I find the time, I am going to stitch it again! I seem to be doing quite a bit of that lately.
Only about a week left until my Blackbird Design give-a-way. If you are interested you need to leave a comment on my previous post before July 4th.
Tomorrow both boys will be leaving, can you hear me sobbing??? They are taking the long 1,677 mile "road trip" back to the northeast. I know that they are excited about their adventure but I'm not ~ they will be missed. I did have my son install a Web Cam on my computer so that I can video chat with them (can you say "helicopter Mom?"). Let's hope that they answer when I "video ring" them!
"If you cross a state or county line when traveling in a land vehicle, make a wish three times out loud. This is one of the few times when custom allows you to speak your wish out loud" (from Wishing)
~Have a wonderful weekend~
Until next time...