I am so excited; I just received the most beautiful ornament from Hazel H. who stitched for me in the HOE Stitcher's Choice Ornament Exchange.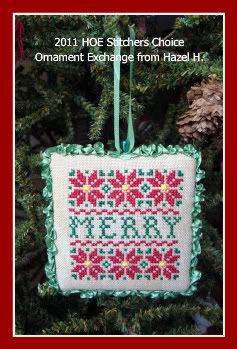 HOE Stitcher's Choice Ornament Exchange
Design from: JCS Ornament Issue
I love everything about this ornament: the design, the perfect stitching and the fabulous ruched trim. I love ruched trim but find it extremely time consuming and appreciate the extra time and effort on this one. Many thanks Hazel for adding to my growing collection of holiday ornaments, it looks wonderful on my tree!
Want to know more about ruching? Here is a link that you might find helpful.
This year I have two Christmas trees, the first is in our family room and it is where Santa will leave the family gifts.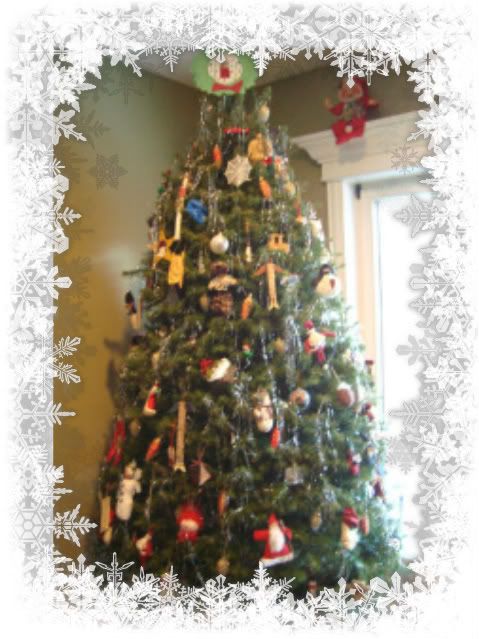 The second is my latest purchase and it sits in the kitchen, where it will remain throughout the year. This tree has a more rustic look and is perfect for displaying my needlework ornament.
After the holiday I will decorate the tree based on the yearly holiday or season. I need to spend some time in 2012 stitching up seasonal designs for the tree; my favorite by far will be when I decorate it for Halloween.
This past summer I found a wonderful Needlework store in southern VT called In Stitches Fine Needlepoint. Although it is a Needlepoint store vs. Cross Stitch Shop I entered hoping they may also carry cross stitch but she did not. Instead I found an array of gorgeous fibers bursting with color and many beautiful hand painted needlepoint canvases, including Prairie Schooler. I instantly fell in love with the shop and I found the owner (Maria) to be beyond friendly and extremely helpful. I entered hoping to walk out with some cross stitch but departed with some great Needlepoint projects. Needlepoint is not new to me, I had done it many years ago and, although I did not want to add yet another "hobby" to my list I could not resist. After a quick refresher from Maria I managed to complete these two projects:
The minute I saw the "University" themed stockings I immediately knew that I needed to order the designs and stitch them for my two sons.


My latest needlepoint project is The Wizard of Oz characters, they are adorable. I will share pictures of that in a later post.
Well, I keep saying that I will do some finishing work on a number of ornaments but I have yet to find my way up to my sewing room…maybe today and then again maybe not!