I am excited to be able to show you the wonderful exchange that I received in the mail today; it is from Goldie who had my name for the SBEBB Frosty & Friends Exchange. What an adorable snowman pinkeep! The design is a Lizzie Kate titled, Share the Season. Goldie also sent a bunch of extras, just look at how she spoiled me…
SBEBB: Frosty & Friends Exchange
Thank you Goldie, I am so grateful for all that you sent and shall cherish the beautiful pinkeep.
I am able to share a few exchange pictures of items that I sent out. The first is a Winter Exchange that I participated in with the Friends Through Threads group. My partner for this exchange is a very talented stitcher named Brigitte. I selected a Mary Garry design titled, Ice-Skating Party and think it is just perfect for a Winter Exchange. I decided to finish it as a sewing caddy and am pleased with how it turned out.
Designer: Mary Garry Sewing Cabin

Design: Ice-Skating Party
Inside of sewing caddy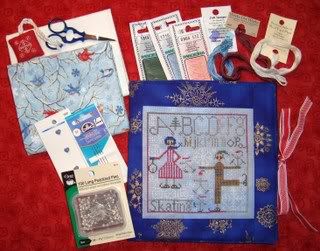 Sent to: Brigitte


Jane contacted me to let me know that she received the Fair & Square round #11 blocks that I sent.

Stitched for: Jane

I spent Friday traveling to Vermont for a ski weekend so I am sorry to say I was not able to stitch on my HAED Wintery Heirloom. I do plan to join the HEAD Friday SAL this week and hope that I can make some headway.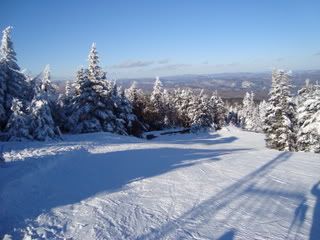 Okemo Mountain ~ Vermont

I had a great weekend skiing with my older son and his girlfriend. We had one slight mishap on the chair lift and all I can say is I am thankful that I did not break my leg! I have a huge bruise on my calf to remind me of how lucky I was. Overall, it was a great day, not as cold as I had thought it would be except at the very top of the mountain with the wind whipping violently around!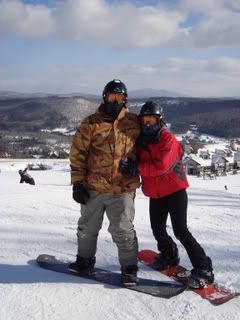 To make up for all the carbs I ate, in preparation for the long ski day (ya right), I "paid the piper" by spending 3 hours at the gym today working out 1 hour each on the Arc Trainer, Treadmill, and Elliptical. I do believe that I need to end this so I can creep slowly down the stairs and rest my weary body on the couch…time to stitch!
Have a great week and thanks for stopping by!
Until next time...