I must say that I was spoiled by Paula C. today! I opened her
Fair & Square Exchange
box and was so surprised to find some wonderful treasures inside. Her blocks are gorgeous, and so nicely stitched:
Fair & Square round #3
Stitched by: Paula C.
In addition she included an amazing "strawberry" FOB~the design reminds me of a quilt! She included some of the BEST candies(by See's!), a pattern from one of my favorite designers: La-D-Da, and some very nice "Coffee" note cards. Paula, words just can't express my gratitude! Thank you so very much for the amazing exchange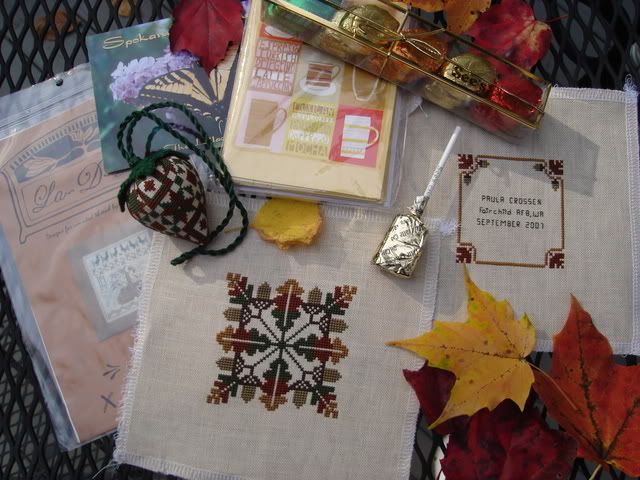 Fair & Square Exchange #3


At present Paula does not have a blog that I can direct you to, but she is planning on starting one. I do hope that she does, as she is obviously quite talented, and I would love for her to share more of her beautiful work!
The Fair and Square Exchange group has such a collection of talented stitchers. For those that are not familiar with this group you might want to check it out, here are the exchange
guidelines
. A huge thank you to Vonna and Annemarie for coordinating the activities within this group.
VOHRH SAL End Of The Month Block Status


Well, I am true to my word...I was unable to complete block #2 by Nov. 1st. Not to worry, I already see much more free "stitching" time on the horizon. If I can rid myself of this nasty headache I will sit down this evening for some serious stitching.
For your viewing pleasure here is as far as I got on Block #2 during the month of October....
Village of Hawk Run Hollow ~ Block #2
Did you know:

-There are no words in the dictionary that rhyme with orange, the color of pumpkin.

-Samhainophobia is an intense fear of Halloween.

-A pumpkin is a berry in the cucurbitaceae family, which also includes melons, cucumbers, squash and gourds. All these plants are native to the Americas.
1 14-oz package light caramels
1/4 cup light corn syrup
2 tablespoons water

Preparation :
Keep popcorn warm in a 200 degree oven. Melt caramels in top of double boiler over simmering water. Add corn syrup and water and mix until smooth. Slowly pour over popcorn in a large bowl. Stir to mix well. With greased hands, shape into balls about the size of softballs. Let cool completely before wrapping with plastic wrap.

Wishing you all a very Happy Halloween!