What a great mail day! I was so very excited to see a box from Paula C. at my door! Paula is my exchange partner for the
Prairie Schooler Fans
Scissor FOB exchange. This is my first exchange with this group, but it is not my first exchange with Paula C. We were partners in the
Fair & Square Exchange
so I knew that this would be an extra special FOB. Paula's work is truly amazing and this tiny treasure is no exception! She tells me that this is her very first attempt at making a Biscornu ~ I find this very hard to believe! I have wanted to try this technique but it scares me. People tell me it is not difficult, even Paula said it was easier than expected, but I have yet to overcome my fear. Well, at least I now have one...my VERY first and I am so happy!
From: Paula C

In addition Paula sent some wonderful extras: A fabric fat quarter, beautiful scissors, a jar of crushed walnut shells (useful in some of the Blackbird designs), and some Gourmet Huckleberry Creme Coffee (can't wait to try this).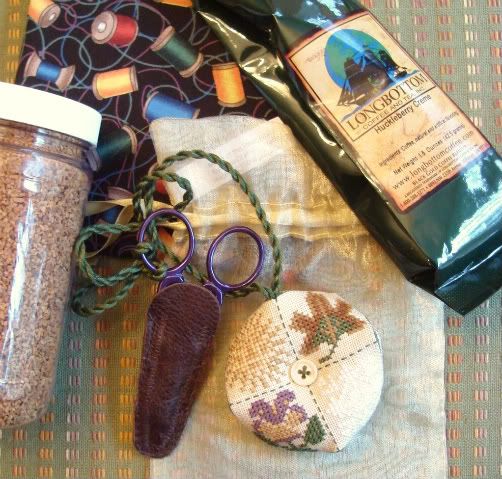 A huge thank you Paula for making this such a wonderful exchange! I am going to treasure this Biscornu FOB! I hope that you find time to get a Blog up and running so that you can share your beautiful work with so many others.
Paula's exchange was mailed out today so I can not share pictures just yet...I will once I know that she has received it.
Yikes, it is almost 4am ~ I guess it is time to go to bed! Probably had WAY to much coffee today...I just can't help it, really.
Until next time...