I received a very unexpected surprise in the mail from
CathyB
. She sent me the most
gorgeous
Heart Ornament that was made by her Mom; I see where Cathy gets her talent. I only wish that I was skilled at Tatting, maybe I should put that on my long list of "Things to do in 2009" ~ learn Tatting! Thank you to Cathy and her Mom for the beautiful heart, I will treasure this forever.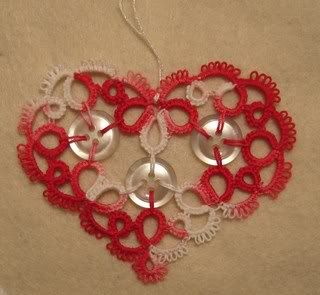 Heart Ornament
From CathyB
Tatting by Cathy's Mom
I was able to finish two Personalized Name Trees for Christmas. M Design Name Trees are one of my all time favorite ornaments. I have name tree patterns for both of my sons but I have not started them. They are now on that growing list, you know "Things To Do In 2009"~
I happened upon a freebie
Tote Bag
pattern from Lazy Girl Designs that I though I would share with you. This too will get added to my "Things to do in 2009" list. :)
Well, I just said good-bye to both of my sons who are venturing out for the evening. One is heading to NYC with his girlfriend to ring in the New Year and the other is ringing in the New Year at a party in the next town. I shall retire to the couch, pick up a my stitching, and stay warm while I view the ball drop on television. I should point out that I will almost certainly be heading out (in the freezing cold) in the wee hours of the morning to pick my son up from the train station upon his return from the city...the benefit of being a night owl.
Thank you for popping in periodically throughout the year to read my blog. I wish each of you a very happy and healthy New Year~