What a dismal day, rain, rain, rain! My day was made brighter however, when I picked up my mail and opened an unexpected package from Paula C. I reached in and pulled out a lovely note, two scrubbers (used for cleaning stoneware/pans), and a wonderful "coffee theme" fat quarter!
I saw these hand crochet scrubbers pictured on Paula's blog and asked her if they really worked. How very sweet, she sent me some to try! I have not tried them yet but I will. Paula tells me they are washable but I still hate for them to get dirty.
The coffee fabric is perfect for finishing the "Spot of Coffee" design (LHN) that I completed many months ago. I am thinking of a pinkeep finish on that piece, wouldn't this be a great fabric choice for the back?
Paula, your RAK was such a wonderful, unexpected surprise on such a dreary day. Thank you very much! I truly value our friendship and emails, especially your "heads-up" emails on upcoming exchanges. :)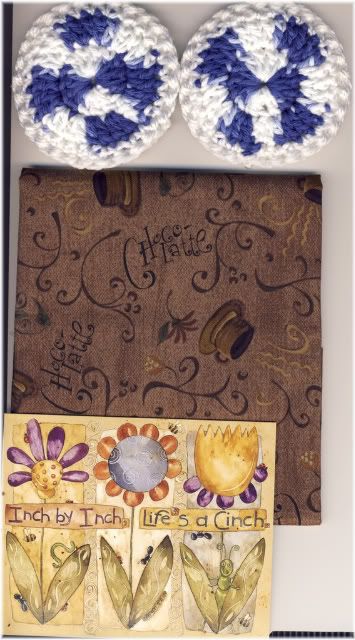 My camera is still in Vermont so I am forced to post pictures using the scanner. I am heading to Vermont on Wednesday because we have sold the property :( and have a scheduled closing next Monday. It is hard to believe that I will not be driving to Vermont on weekends but I am hopeful that we will find another place relatively soon. Keep your fingers crossed, we are looking but have yet to find that perfect place.
Until next time...