I
received a
Stitches 'N Things
Gift Certificate for my birthday and I do not know who the sweet stitcher is that sent it to me. The "From" section on the gift certificate is blank and when I phoned the shop they had a record of the order but not the person that placed it. So… to the Mystery Stitching Angel, Thank You! Please, please, please email me so that I can properly thank you for this wonderful surprise? :D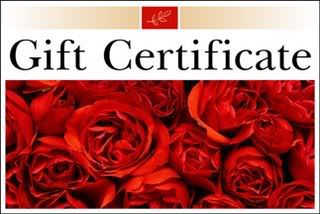 Fenton, MI
Yes
, just prior to the New Year I turned the BIG 50. I cannot say that this milestone bothered me it did not; birthdays never do. I was just so happy that both my sons and my son's girlfriend were here to celebrate with me. One of the highlights of my birthday was this beautiful Quilt cake:
My DS managed to find a local bakery and send them a quilt picture for "inspiration" ~ I was impressed with the delicious cake the baker managed to create!
Now
for some stitching…
I
am participating in the
LHN Ornament SAL
and have completed Ornament #1 Fa La La. Actually, it is almost complete I just need to stitch a yellow bead in the lamp light for the flame.
This
is my first 2010 finish and I am happy to say that I plan to keep it. In an effort to get a jump-start on future exchanges, I did stitch it again and hope to do this with all of the LHN monthly ornaments.
Little House Needlework
Monthly Ornament #1
Fa La La
I am almost done with Ornament #2 Pear Tree. I just need to stitch the amber beads, which I will do this week.
Little House Needlework
Monthly Ornament #2
Pear Tree

I
am embarrassed to say that it has only taken me 10 months to start hanging pictures on my walls. We resist what we
do not
like to do and for me it is trying to figure out what to hang where. Here is the start to my sampler wall: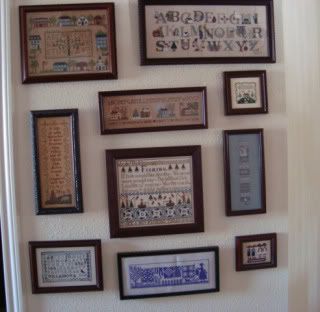 I
have about 6 more finished designs that I need to get framed and about 1,000,000,000 on my To Do List.
I
will leave you with a picture of the flannel quilt that I started when we had our Vermont house. I wanted to make a Fall Quilt, one that would look perfect on the bed in VT. By the time I finished it we had sold the Vermont house, sold the Connecticut house and left New England for Texas. The quilt is fine for the winter but I must now concentrate on making another quilt for the summer. The idea of a flannel quilt draped on the bed in the August heat is dreadful ~ almost as dreadful as the idea of whipping up a king size quilt in just a few short months!
Until next time...