Oh what a day.... I was so surprised and excited when I picked up my mail and opened two exchanges!
The 1st is a beautiful Redwork Exchange that I received from Goldie.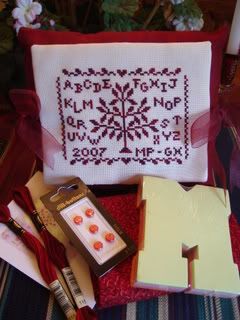 USEBB: Redwork Exchange
It is hard to believe that this is the very first tie-on pillow she has made. I have yet to make one, may need lessons from you Goldie!

The design is titled Alphabet Tree; by Blue Ribbon ~ I just love it! Goldie stitched this using Gloriana over dyed Cranberry Silk, simply beautiful. Thanks for personalizing it with our initials.
She also included a half yard of pretty red fabric (a quilters dream), small red buttons, "M" notepad, and DMC 115. I love working with that color. If you have not tried it I highly recommend it!

Thank you so much Goldie for the beautiful pillow and wonderful extras~ I love everything that you sent!
The second beautiful exchange was received from Becky K.
Front view - - - - - - - - - - - - Back view/inside of tin
She stitched three beautiful items:

A gorgeous Tin Topper, stitched in the most perfect shade of green (matches the walls in my family room ).

A stunning tiny FOB, stitched perfectly on such small count!

She also included a very pretty Christmas ornament. I had admired this on her blog. I love the shape of the tree.


Becky spoiled me with so many wonderful treats: Coffee (she must have read this blog), Tea, scented stones, some small round magnets that I can use when finishing a needle minder, dark chocolate Altoids-yum!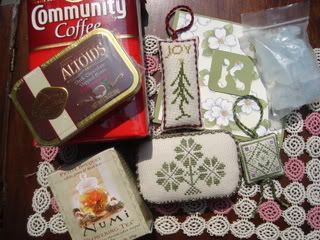 USEBB Specific Finish Exchange: Tin Topper
Deigner: Hillside Samplings
Received from: Becky K.
Thanks so much Becky K. for all that you sent. Please know that I will treasure your beautifully stitched gifts!

Village of Hawk Run Hollow SAL...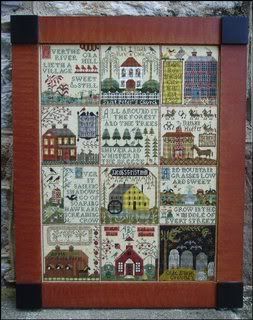 I was able to get some fabric for Village of Hawk Run Hollow and have joined in on the SAL with
Kathy
and
Jane
. Things are really busy now so this will not be a
stitching marathon
, we have a goal of stitching one block per month. We welcome others to join in, this is a great way to actually finish those projects! Visit our blogs where we will post pictures of our progress!
Wishing all Blog readers a very relaxing and enjoyable Labor Day Weekend~Safe travels!
Until next time...