My "collection" of Fair & Square blocks continues to grow, with the newest addition arriving from
Jen R
. What a wonderful block, I adore this sweet birdhouse design and love those tiny buttons. I wish that I could share with you what I plan to do with these beautiful blocks but for now, I have no idea so I shall merely share this picture: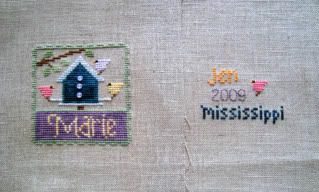 Fair & Square ~ round #12 from Jen R
Now, how cute is that? Thank you so much Jen for the amazing blocks I love them.
My "cute" little dog is driving me NUTS! Unlike any other dog that I have owned, this one chews and does not like being left alone. I was out and about for a mere 2 hours and when I returned and opened the laundry room door this is what I came home to:
She must have scratched at it!!! I use to leave her in the master bath until she chewed on the corner of the vanity! Now when I leave I put both dogs in the laundry room (Misha is a good girl and does not need to be in there but I am fearful of what Lily would do without her) this is the 1st time that she has done any damage and it shall be the last. I am going to end this post so that I can read about "crating" and check for some type of a corral to keep her in. I have plans to attend a quilt show on Friday and had planned on leaving her in the laundry room, now I am afraid....very afraid~
Thanks for stopping by~
Until next time...