Oh how I love the fall, especially Halloween but I must say I am missing "Fall in New England".

It just doesn't feel much like fall around here so I decided that I had to get busy and

drag out the Fall/Halloween box to decorate the house.

Now that so many of the stores have all of the Halloween decoration out on the shelves

I need to try to stay out of them; I always seem to find something new that I must have.
A new wreath for the door…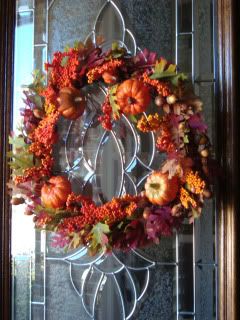 A new centerpiece for the table…
A newly decorated vintage tree…
And yesterday I received a wonderful Halloween package from Erin W. that contained some great new decorations: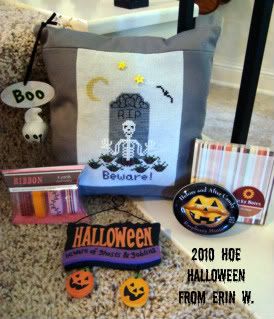 Take a closer look at the fabulous pillow:
Designer: The MonkeyWorks
Design: In The Graveyard
Can you see the beaded skeleton? Erin, clever stitcher that she is, decided to forgo the white floss and use white beads instead (the picture on Erin's blog is better so be sure to pop on over and take a look). I shall prop this pillow up on the mantel in my family room for all to see. The cute ghost bell and Halloween plaque are displayed on the vintage tree. Thank you so much Erin for all that you sent, you made this an extra special exchange!
My exchange has quite a distance to travel so I do not expect that it will arrive until next week. I will wait to hear from my partner before posting pictures.
Your comments make me smile and knowing that you visited makes my day so thank you all.