The arrival of summer 2104: June 21st ~ FINALLY!
Thank you for all of the well wishes for a speedy recovery from my shoulder surgery. I began physical therapy last week, not sure why I need it but I am following doctors orders.
I am back to stitching, thankfully. The Fair & Square group is up and running once again...Thanks, Jill.
I participated in the July Patriotic exchange and sent these blocks to Jill.
2014 Fair & Square Patriotic
Design: Happy 4th
Stitched for:
Jill
In March I found these vintage butter paddles in an antique store. I knew that they would look great with a cross stitch mounted on the front. My DH stained them a bit darker and drilled a hanging hole in the handle.
I found two designs; the first is Aqua Queen and the second design I took from a larger design but I can't remember the name.
Designer: The Primitive Jewel
Designer: Midsummer Night Designs
I have a few more butter paddles and plan to stitch more designs with a "Queen" theme. The next design will be this one: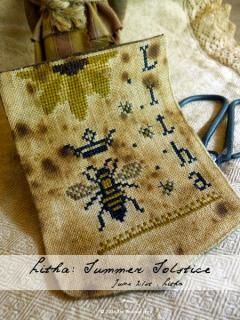 Designer: The Primitive Hare
Thanks for stopping by and...
Until Next time ~ remember:
Some of the best memories
HAPPY SUMMER!