I received two very special birthday gifts from some truly special online stitching friends. The first arrived in my email inbox in the form of a gift certificate from
Down Sunshine Lane
given to me from my dear friend
Vonna
. Vonna was instrumental in helping me get my blog up and running many years ago and we have remained good friends. A huge thank you my friend, you have been a shining light in my life and I value our friendship more than you know. I will be sure to post a picture of my purchase from DSL.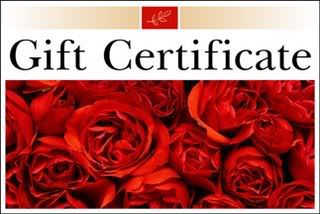 The second "unexpected surprise" arrived on Monday from another special lady, and extremely talented stitcher,
CathyB
(yes, the same CathyB that surprised me with the heart ornament from the last post!). What a gorgeous pinkeep!!! Cathy and I share a passion for Mary Garry Designs and I must say I love this one. Cathy, I cannot thank you enough for this beautiful gift AND for the gift of your friendship; your thoughtfulness touched me deeply!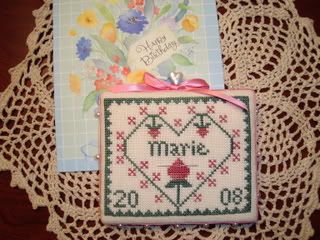 Gorgeous Birthday Surprise From CathyB

Thank you Cathy and Vonna for making my birthday extra special!
I have another M Design Word Tree Ornament to share with you: JOY. Boy, do I love these! I made this one for a friend in Texas, whose name happens to be Joy.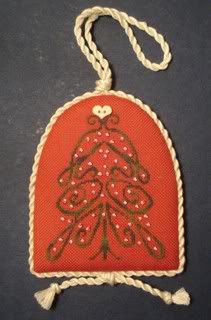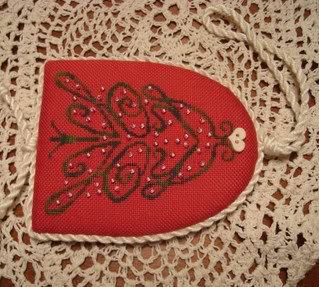 Have you visited
Anita's Little Stitches
online shop lately? She just set up a new blog with a great
tutorial for Floss Tags
. Her instructions are excellent and she has included a number of pictures of her beautifully finished Floss Tags. Much like Anita, I like to mount my floss tag piece on cardboard but was struggling with how to get the eyelet through all of that bulk…I love what Anita does. Thanks Anita for sharing that on your new blog. You may also want to stop by her online shop; she has everything that you need for finishing those very popular floss rings! While there check out the Davo scissors: a good friend sent me a pair for Christmas and I love them! I did purchased the 4" Chanticleer (made in Italy) from Anita, these are wonderful as well.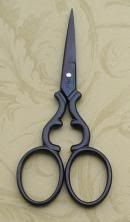 Stay tuned as I shall be sharing some interesting news in the near future....
Thanks for visiting with me~