Two
wonderful exchanges arrived on my doorstep. The first was a Fair & Square exchange that was sent by Darla. She stitched me the cutest design taken from the
Gift of Stitching magazine
(great online magazine). I just love that there is a little dog and that she changed the design up a bit and added my initials. Thank you so much Darla for the wonderful blocks!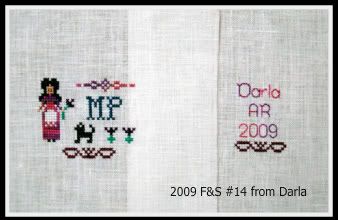 Fair & Square #14
Stitched by: Darla

The next exchange piece was from Moni who was my stitching partner in the FTT: Seasonal Exchange Summer rotation. Moni stitched a decorative hanging heart with a strawberry motif. The backing fabric on this is truly perfect; it has tiny strawberries growing from the vine. I love pieces like this that I can easily display on door handles, knobs, or pegs. This beauty is hanging from a peg on my hall tree.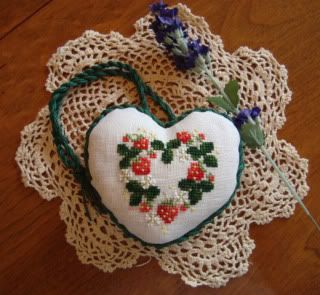 In addition, Moni treated me to a very generous piece of fabric, a pretty piece of backing fabric, ribbon, variegated floss, floral buttons, 2 wonderful patterns, and a delicate and very pretty crochet sachet that has a scented heart shaped soap inside. I venture to guess that Moni made this, it is beautiful! A special thank you to Moni for making this summer exchange extra special.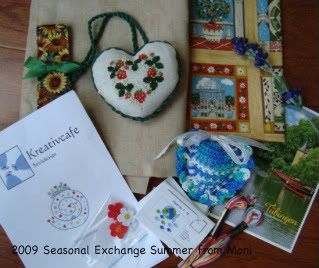 FTT: Seasonal Exchange ~ Summer

So, what did I stitch for Moni?

This
is the first time that I finished a piece as a fabric basket. I received one from
Chris
back in the summer of
2007
and loved it. It only took me 2 years to finally get around to making one myself!
FTT: Seasonal Exchange ~ Summer
Okay, are you wondering how I remembered "who sent me what" over 2 years ago? I have a horrendous memory so I assure you that I did not rely on that! When I first entered the world of exchanging, I started a photo album to document the exchanges that I sent and received:
I do have the pictures on the computer but this book has become a great resource and a source of enjoyment. Sometimes I just like to grab the album and a cup of coffee (naturally), sit on the couch and flip through it.
In my last post I showed you the beautiful squares that I received from Jill in the F&S Summer Exchange. Let me share with you the squares that I sent her ~

Designer: Prairie Schooler
Design: A Prairie Year Book #13
Life
is GOOD…my Primitive Wizard of Oz arrived and I rushed to pick it up. I would start it TONIGHT however, I was unable to get the fabric and must wait until that gets ordered. Jenn, keep those "FYI" links coming and thanks again for this one.
For now I shall leave you with this "Wishing Custom"...

JUG
When blowing into a jug, if you can get a sound on the first try, make a wish.

Until next time...