In
2007 I participated in 24 exchanges, in 2008 I topped off at 28 and my 2009 total (thus far) is 28. That is a total of 80 exchanges and I am SO happy to report that I have finally been blessed with a wonderful piece stitched by Edgar! I have been an admirer of his work for quite some time and secretly wished to one day receive something stitched by his hands. If I saw his name on the list of exchange participants, I would think "oooooh, maybe this time!"
My
DH walked in with the mail and handed me a box. You can imagine my excitement when I saw the return address label…Yahoo, my heart skipped a beat! As I rushed to open it I was running my mouth about Edgar and his amazing stitching, I am not sure my DH understood a word that I said. I carefully opened the package and saw this fantastic Pinkeep: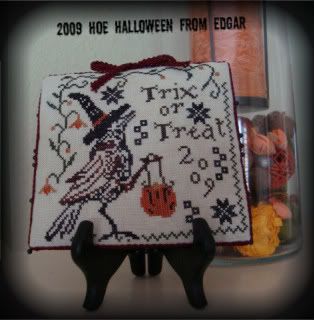 Designer: BBD
Design: Trix or Treat
Stitched By: Edgar
I
did not get to gaze at it too long before my DH took it from my hands and, impressed with what he saw, commented that it is quite nice. Edgar select a BBD (one of my favorite) titled Trix or Treat and stitched it on 28ct Birds Of A Feather Sandpiper using WDW and Gentle Art threads.
And
look at this fun backing fabric!
Cute
huh? Edgar also included the display stand, which was sweet of him.
He
packed the box with a bunch of fun, and I mean fun, Halloween treats.
2009 HOE Halloween Exchange from Edgar
I
love everything but I especially loved the Lip Pop and Pez dispenser. Not only did they make me laugh they made me wish that I had thought of sending that in my exchange ~ very cute! It would be an understatement to say that I am over the moon with this exchange. I guess you can say that wishes really do come true! Edgar, I cannot thank you enough for the wonderful pinkeep and the many treats; you certainly made my day!
I
spent the last two days at the huge quilt show here in Houston viewing beautiful quilts and walking in an out of over 900+ vendor booths. My company has left, the house is quiet, I am exhausted, and I am definitely ready to plop on the couch and stitch for as long as I can keep my eyes open.
Thank
you Edgar for the wonderful exchange I am so excited and very grateful. Thank you to all that find time to stop by for a quick read, do come again.
Until next time...