Yes
, I have been blessed by the generosity of two more stitching angels...
Three
years ago, when I was venturing into the world of Blogging I was in need of assistance as I struggled to set up a blog. I am thankful that I met up with
Vonna
because with her help I managed to get myself up and running. She answered many of my "how to" questions and was always very patient as I stumbled. Fast forward three years and I am happy to say that I now know what I am doing (most of the time) but more importantly, I am still friends with this wonderful woman!
I
recently received a package from this dear friend ~ Vonna bestowed this beautiful BBD Wool Appliqué Friendship Tree pillow upon me...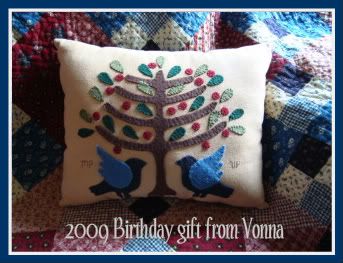 I
love the design and the color selection matches perfectly with my flannel quilt. Thank you so much Vonna, your gift touched my heart! You will always remain a dear friend and I still hold out hope that someday we can be neighbors…I move a lot so there is hope. :D
Just
days after Vonna's box arrived I received a package from another dear friend,
CathyB.
What a surprise to open it and find these beauties...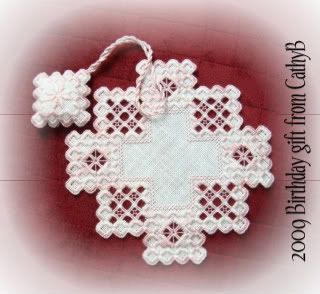 Yes
, my mouth did drop open and does each time I pick these up…can you blame me? I do not know too many stitchers that do
Hardanger
work and I do not know any that do it as well as CathyB. I am thrilled and honored to receive the beautiful Fob and Doily.
I
have a collection of small Limoges hinged boxes that I display in my coffee table, some have doily's under them and some do not. I knew immediately that this is where Cathy's Doily would go and I knew instantly that I wanted more so I have added "Hardanger work" to my 2010 "To Do List" ~ Wish me luck!
Here
is a picture of the table display, I just love it! Thank you so much Cathy for the gorgeous gifts and for your gift of friendship. You made my heart sing and my display case look so much nicer! :)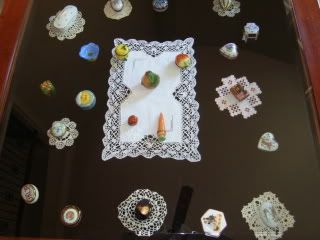 I
am participating in a quilting block exchange with a group of friends. Every other month we are to turn in a set of nine brown and pink block, the pattern is the same every month but the fabric selection is different. Here is a picture of the last set that I submitted...
We
will each end up with 54 brown and pink blocks that I am hopeful will work up into a beautiful quilt top but we do not finish the exchange until September 2010 so it will be a while.
For
the very first time I was able to meet a fellow blogger in person and it was really fun. I learned that
Missy
lives in a few short miles from me so we made arrangements to get together and stitch. I can't say that we got much stitching done but we certainly did do a lot of talking and I look forward to stitching/quilting with her again. Thanks for stopping by Missy!
I
must end now so that I can do a bit a research on Hardanger. Thank you again to the two Stitching Angels Vonna and CathyB for the beautiful gifts!