I must give myself a pat on the back for maintaining self control when it comes to signing up for stitching exchanges. This does not mean that I have gone "cold turkey" but rather that I have been very good about picking and choosing which to participate in. How happy am I that I did not pass on the FFT LHN Exchange, let me show you: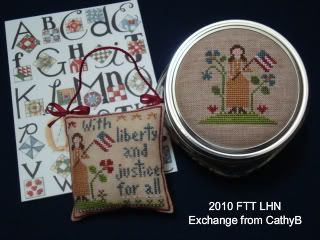 Design: Liberty and Justice
Stitched by: CathyB
Yahoo, I am one lucky stitcher.
CathyB
stitched for me (that in itself is a bonus!) and she managed to put a huge smile on my face with the beautiful pillow ornament and glass mason jar. Yes, Cathy stitched both designs in the LHN Liberty and Justice pattern and she stitched them on teeny tiny count (40?) over two. I love the tiny count and can truly appreciate the work that goes into stitching on it. Both are so beautifully stitched and finished.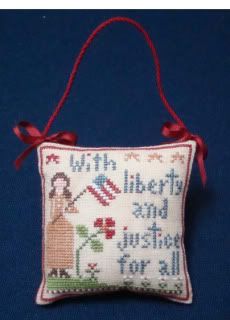 Thank you so much Cathy for these beautiful exchange pieces. You are a dear friend who never ceases to amaze me with your stitching talent.
I was glad to hear that my partner for this exchange was
Suzanne
. She stitched a gorgeous Ornament for me in an Ornament Exchange last year so this gave me the opportunity to stitch for her. I decided that I would stitch an ornament for her tree and selected a design from the LHN Monthly Ornament series titled,
The Merry Skater
. Given she has two adorable little girls I thought that this would be perfect. For the trim, I tried my hand at
ruching
; I like how it turned out but it is rather labor intense.
FTT LHN Exchange
Design: Merry Skater
Stitched for Suzanne
Just a few days ago,
Carol S.
celebrated her birthday. She does so much, through her HOE exchanges, to keep me happily stitching that I wanted to send her a little something. This is what I shipped her way: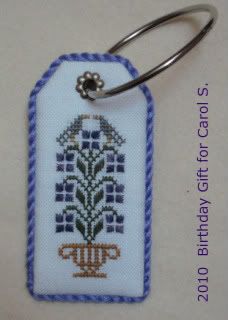 Designer: Drawn Thread
Design: Caron Keeper
Finish: Floss Fob
I am so glad that you liked it Carol and I do hope that your birthday was extra special!
As always thank you for taking the time to stop by for a visit, do come again!