I arrived home after a fun filled weekend stitching at a Quilt Guild Retreat to find a package from Becky K. When I opened the envelope, I found this beauty: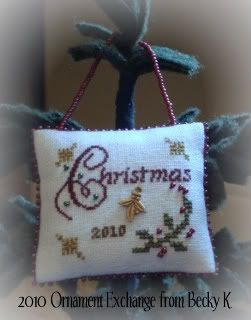 Christmas Ornament Exchange
From Becky K.
Designer: Jeannette Douglas
Design: '09 Christmas Stamp
2009 JCS Ornament Issue
Fabric: 28ct Opalescent
Becky stitched for me in the
Christmas Ornament Swap
. Wow, this is truly a gorgeous ornament. It has been beautifully stitched and finished and I simply love the Opalescent fabric; perfect for this holiday design. I love that the backside is personalized: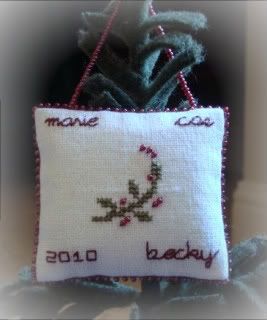 The beaded trim is such a wonderful accent! Thank you so much Becky for this beautiful ornament, I shall treasure it!
I recently attended a Saturday class at
My Little House
(Katy, TX) where we learned how to make this little Wool Feather Tree. The class was wonderful, probably because Jan, the instructor/shop owner, is a fabulous instructor and a wonderful person! When I left, I purchased some additional wool to make a few more of these; one will be a purple wool tree for Easter. I am thinking of making a larger Wool Feather Tree to display some of my cross stitch exchange pieces.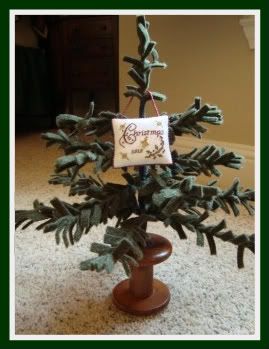 Wool Feather Tree
When I walked into My Little House I was in heaven! There is such a wonderful selection of gorgeous wool, a huge array of rug hook and punch needle patterns, as well as some beautiful shop models to inspire you. Not long ago I took my first Punch Needle class with Jan which I enjoyed. I am hoping to attend her regular Wednesday "Hook In" so that I can dedicate some time to my new punch needle project.

The deadline is looming and I am once again stressing over the completion of the next set of Pink and Brown Quilt Blocks! Although we have 2 months to make each set I tend to wait until the last minute to make the blocks. With only 7 more days to finish the 3rd set I am busy trying to complete 5 more blocks. Here is the block that just drives me crazy:
I must end so that I can head up to the sewing room and complete the remaining blocks. Oh, how I would rather sit down and pull out my PS Alphabet SAL or my HAED A Moment To Cherish!

Until next time...