I received a wonderful
HOE
Prairie Schooler exchange piece from Ellen L. What a welcomed surprise it was to receive such a beautifully stitched and creatively finished cross stitch.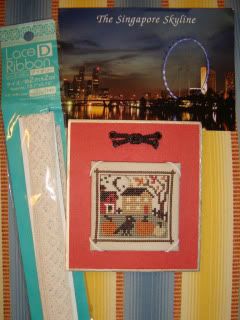 Designer: Prairie Schooler
Finish: Miniature Wallhanging
Ellen selected a PS Fall design from one that was published in The Gift of Stitching online magazine. She finished it into a miniature wallhanging, how creative is that!!! I have never seen such a finish but I will certainly give it a try. Ellen also surprised me with some very pretty lace ribbon.
Thank you so much Ellen for making this an extra special exchange!
Here is what I stitched for the HOE PS Exchange...
Designer: Prairie Schooler
Design: Spring and Fall Book #90
Fabric 32ct over one
Stitched for: Sarah M.
Thanks for stopping by.