There are a number of blogs that I thoroughly enjoy reading but there is one that tops the list: The Easily Influenced Stitcher. I can't tell you how many times I have laughed out loud reading Shirlee's blog. My DH, wondering what was cracking me up, read her post about the Devil's Playground and was also highly amused. Not so long ago, embedded in one of her posts, Shirlee offered three giveaway gifts, one of which was an item handmade by her. There was nothing I wanted more than a little piece of this woman to display in my home (I would prefer her move to my hometown, but I think that might be asking too much).
To my surprise I won the "handmade item" ~ This REALLY was a surprise since, as I stated before, I can't win a cake in a cake walk. My luck must be changing since I recently won Kevin's awesome giveaway.
Take a look at what arrived in the mail from Shirlee...
Designer: Little House Needlework
I love it and am so happy to have a little bit of this wonderfully amusing woman in my home. Thanks to my primitive little tree I am able to display it year round. Thank you again Shirlee!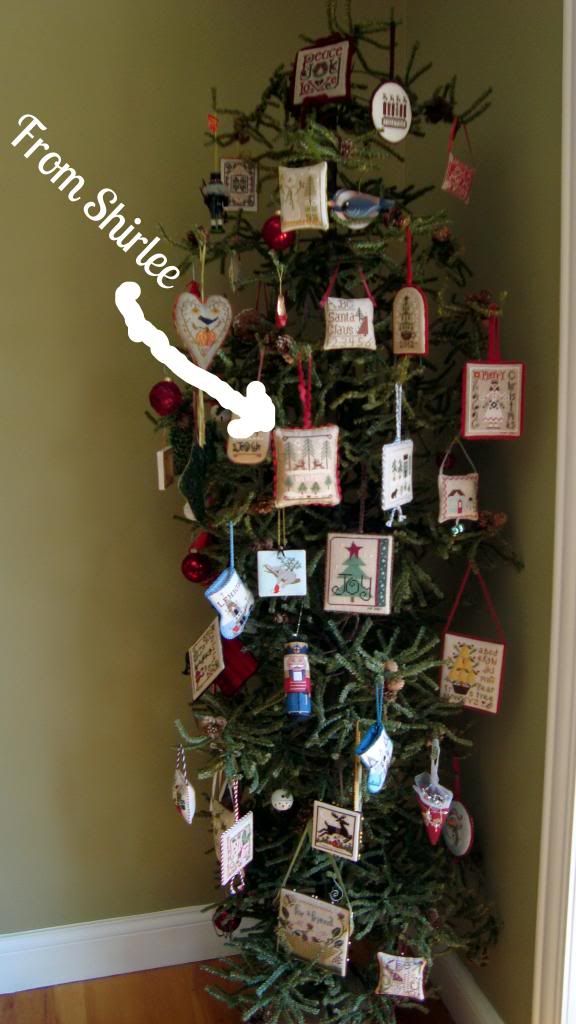 The Wizard of Oz and Mother's Tribute are framed...
Design: Wizard of Oz
That cute little tin man is actually a pin that I purchased many years ago.
Designer: Silver Creek Samplers
I am hosting a Friendship exchange on the HOE blog so if you are interested in participating you can get the details HERE.
Thanks for stopping by. Have a great week!