Yes, I have been busy stitching and snapping, snapping pictures that is. I received this:
I have seen so many gorgeous pictures on various blogs, which prompted me to seek out a new camera. My sons, knowing that I know very little about photography, gave me private lessons with a local photographer ~ more about that later.
Let's start with the stitching...Kate R received the HOE Halloween #2 ornament that I stitched:
And the ornament that Michelle B. stitched for me arrived:
Designer: Jeannette Douglas
Design from JCS
It is wonderful, don't you think? Michelle's stitching and finishing are impeccable! Take a look at the cute spider charm.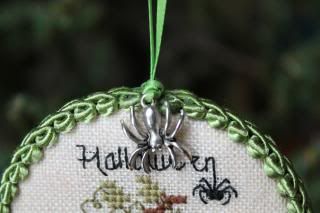 I love it! This is a great addition to me year round Halloween tree.
Michelle, Thanks again for making this an extra special exchange.
Okay, on to my snapping. I began my photo lessons with a wonderfully talented photographer,

Les Jorgensen

. My 1st session included a lesson on lighting and my homework was a bit of a scavenger hunt ~ I was to photograph 13 scenes/images:
A back lit, a side lit, a front lit
A photo with contrast and without
Dull object in specular light and glossy object
Dull object in diffuse light and glossy
A photo in warm light and cool light
I shall not bore you with all of the images but I will share with you two that Les was impressed with. The first was my "Cool Light" image:
2014 Drew
The second was my "Back Lit" image:
January 2014 Vermont
Hopefully, with the help of Les, my Blog pics will look a little nicer ~ Hmmm, is that possible?
Thanks for stopping by and...
Until Next time ~ remember:
Throw back the shoulders, let the heart sing, let the eyes flash, let the mind be lifted up, look upward and say to yourself...
Nothing is impossible!
~Norman Vincent Pearl