It's been a month…really?
Where does the time go?
Design: Black Horse Inn
Designer: Carriage House Samplings
VS Last Month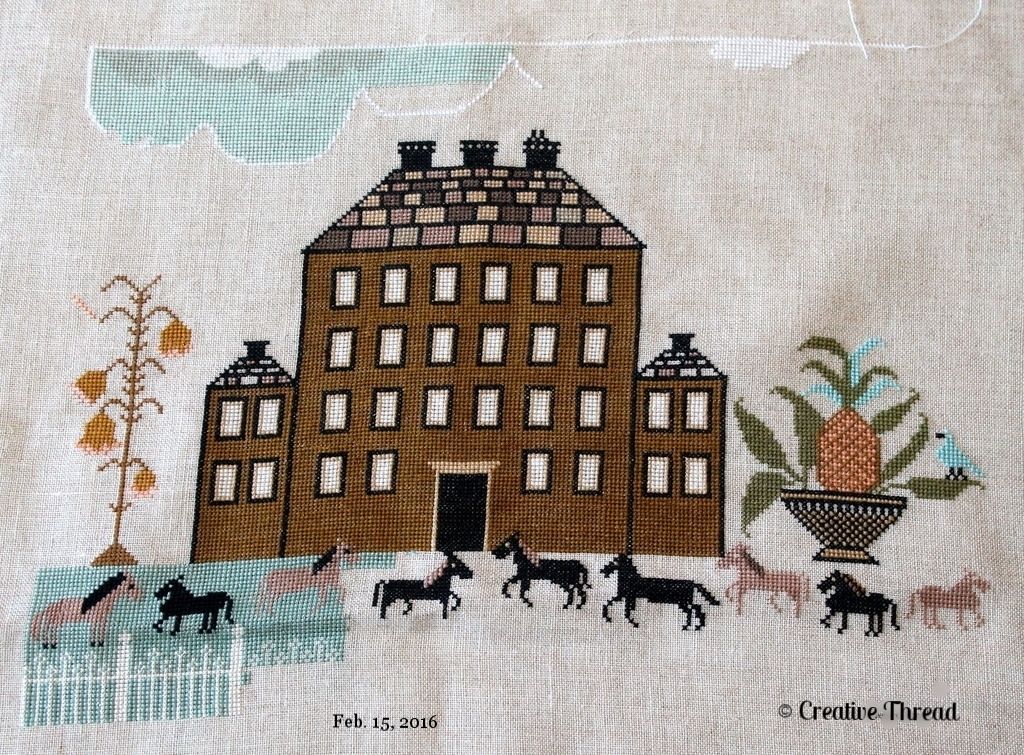 M
y monthly update is not that impressive. I managed to grow a little more grass and build 2 sections of fencing ~ but that's it for the month!
Black Horse Inn stitching got suspended due to some Easter stitching. We will be flying to Colorado next week to spend Easter with DS2 and his sweet GF. In addition to Easter baskets, I wanted to bring them a stitched Easter design. DS1 + DIL will be flying from NYC to Colorado to spend Easter weekend with all of us so I stitched her an Easter design as well. I have almost completed the finishing and will post pictures next
time.
We usually spend Easter in MA with my cousins and their families. Although we will miss all of them, we have decided to head to Colorado. I love it there and am looking forward to exploring Denver. There are some LNS, quilt shops, and yarn stores that I plan to visit, and we are hoping to enjoy some spring skiing, especially given the dreadful ski season here in the Northeast. Since we missed out on being together as a family over Christmas, I am happy that we are able to all spend time together over Easter.
It was a bit cool, but the sky was sunny, so we decided to stop at the beach in San Simeon. Not for a swim but to enjoy the Elephant seals, hundreds of these creatures dotted the sand. The Piedras Blancas elephant seal rookery spreads out over 6 miles of beach. It is here that we got to see this…
While we spent our Christmas with the animals, DS1/DIL spent theirs with her family in Arizona…
And DS2 spent Christmas with his girlfriend's family in Georgia…Quite the tree!
That's not the end of our California travels but it is the end of this post. I'm thinking this might be a good time to put needle and thread to fabric and make some progress on Black Horse Inn so as not to disappoint next month.
Thanks for Stopping by…
Until next time…