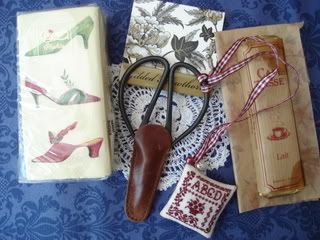 FGBB: SCISSOR FOB EXCHANGE
I received the most wonderful exchange from Helen. She stitched this Scissor FOB on 40 count over one!!! It is truly amazing and her stitching is just beautiful. I am a fan of the smaller counts but am not too sure if I have ever stitched 40ct over one! I just finished a 32 count over one that drove me a bit crazy so I appreciate the time and effort she spent on this.
The design is from a French Designer: Corbeille by Alphabets. It reminds me of a Prairie Schooler design...and I do love PS. I am thrilled that Helen personalized the back ~ I have decided to do my best to add personalization to my exchanges. Although the one I just completed was finished prior to my making this statement ;-}.
I also received some very unique scissors that Helen picked up in Whitby, a seaside town in Yorkshire. This makes them even more special to me! She also included a delicious chocolate bar, decorative tissues, a small memo pad, and a very pretty doily from The Bowes Museum in County Durham.
Helen I want you to know the I will forever TREASURE this little FOB, and adore all of the wonderful gifts that you sent my way. Thank you, thank you, thank you!
I Will Never Garden Again
This past Friday I decided to clean up the landscaped area of my backyard. I should point out that I am an indoor person and never attempt to do yard work...I kicked off the shoes and stepped in to start pulling, clipping, and piling up anything that I thought may be a weed. Two hours later I had 4 piles of debris for my DH to discard. I retreated to my favorite place...inside the house. Saturday AM my DH woke with traces of poison ivy on both wrists. Unlike me, he was wearing gloves. I woke and was just fine, that is until late Saturday evening when both arms were covered!! By Monday it had spread to my face sending me right to my doctor. She referred to it as "severe" poison ivy ~ can't say I am surprised as I was basically "playing" in the mess for 2 hours. Fortunately the medication is working and I am slowly recovering. Sadly the oils from my hand spread the poison ivy somewhere in my house, most likely the door handles, and now both of my sons are on medication for a mild case of this nasty ailment!

I have refrained from stitching as I really do not feel much like doing that. I would imagine that in the next few days my desire will return and I will continue to stitch on my many exchange projects.
I will be heading to my Vermont house on Friday where I will spend the summer. I will Blog via the wireless laptop, but it is dreadfully slow so my entries may be minimal.
As always, I am glad that you stop by and love that you comment!
Until next time...