USEBB: Summer Quaker Exchange
From Vonna

My rainy, dreary, chilly day here in southwestern CT was quickly brightened by the arrival of a box from Vonna. She sent me the most gorgeous pinkeep and an array of wonderful gifts for the USEBB Summer Quaker Exchange. Vonna very cleverly stitched our initials within this stunning design, can you find them? (you may need to click on the picture for a close up view). In addition she placed a wonderful little charm on the back that reads: Handmade With Love. Okay, I now need to know where to purchase those?



I was treated to so many wonderful gifts: Note cards, scented candle, buttons, designer post-its, chocolate truffles (yum), and hand dyed floss. Vonna, I did not stay true to my word, the chocolate is now gone! Please know that I love everything that you sent!



I am so honored to have a finished piece made by Vonna, her workmanship is flawless and her friendship is priceless. The pinkeep has found its way into a display case that I have in my family room. I will be admiring it often!


Thank you so much Vonna ~



Summer Quaker Exchange Sent:
Since I know that Amy received the Summer Quaker Exchange that I sent to her I will post a picture of it here...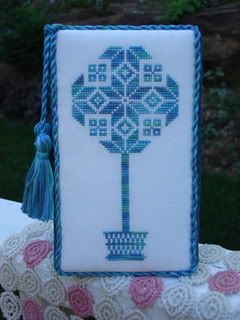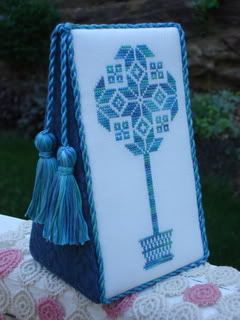 "Quaker Tree Third"
Designer: The Workbasket


I recent purchased
Judy Odell's
finishing book titled: Heavy Weight. This exchange gave me the opportunity to give her book a try. I will most certainly be using this technique again as I hope to make some bookends for a friend, a doorstop for myself, and I am signed up for 5+ exchanges that will need "finishing" ~ If you are looking for a different finishing technique you may want to check out one of Judy's books.
Thanks for your wonderful comments, it is always nice hearing from you!!!
Until next time...