I received my Seasonal Stitchers "Summer" Exchange from Julianne. As you can see it is truly wonderful. She stitched a design from one of my very favorite designer, Prairie Schooler. I love that she finished it as a wallhanging. She even personalized it with a block on the back. I must tell you Julianne does beautiful work, and I am so excited that she will be stitching for me three more times.
Seasonal Stitchers Exchange
Designer: Prairie Schooler

Julianne sent so many wonderful gift: Specialty thread by Impressions and The Thread Gather Silk 'N Colors ~ the colors are perfect, Silkweaver fabric ~ I can sure use that, Homespun Elegance "Alphabet Sampler" pattern ~ another of my favorite designers, some Crabtree & Evelyn soap and some Lavender lotion ~ both smell so good! I was spoiled :-D.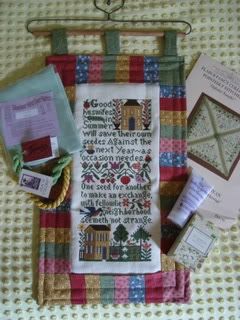 Thanks Julianne, I love all that you
sent
and will treasure my new wallhanging.
As a participant is the Seasonal Stitchers group I will be stitching for Leena. I stitched her a design from Prairie Schooler "Friends" and finished it as a Pinkeep. Soon I will be stitching a "Fall" exchange for her. There are so many wonderful fall designs that I am not quite sure what to stitch.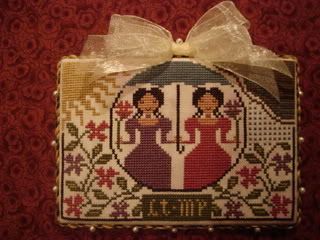 Seasonal Stitchers Exchange
Season: Summer
Designer: Prairie Schooler
Design: Friends
Finish: Pinkeep
Village of Hawk Run Hollow

With the addition of Katrina and Mindi, we now have 5 stitchers participating in our SAL. It will be fun to see the posted pictures of our monthly progress.
Here is my progress thus far. Given that we have until 9/30 to complete a block, I am certain that I will meet this months goal.
Progress as of: Sept 7, 2007
Thanks for taking the time to stop by.