I spent the last six days in Vermont busy stitching on my Village of Hawk Run Hollow. I have made great progress and will most certainly reach our "one block per month" goal. A few people were interested in joining our Stitch A Long (SAL). I did not have your email but if you send me an email I will add you to our group. Take comfort in knowing that we are not in a "stitching marathon" to complete this rather large design. We merely want to motivate one another in an effort to eventually complete the design. If you have already started either the Village or Houses of Hawk Run Hollow and want to join in, feel free. Some have mentioned that they started the design but have put it aside and would love to finish it...here is your chance!
Now that I am home I have had the chance to play "computer catch up" and have seen that the exchanges that I sent off have reached their destination. Here are two of those..
Redwork Exchange for Goldie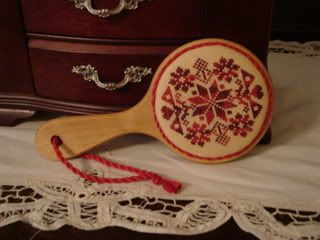 Design: from Tsunami Sampler
Floss: Needle Necessities
While in Vermont I stopped at a local woodworkers shop where I found this wonderful hand mirror. It was just perfect for this design! I loved how it turned out so I went back to the shop and picked up about 3 more...What do you bet that someone will almost certainly be receiving a hand mirror in a future exchange???
What's The Buzz Exchange for Chris
SBEBB: What's The Buzz
Designer: First Love Designs
Design: The Beehive
Finish: Floss Caddy
What's the Buzz Exchange ~ Inside of Floss Caddy

I put my sewing/quilting skills to use and created this Floss Caddy.
I will need to post my Tin Topper Exchange at a later date. The pictures are in my camera and I do not have time to load them onto the computer.
Thanks for taking the time to visit. I am honored that you stop by!
Until next time...