My stitching partner for
Fair and Square
round #3 was Paula C. She told me that she plans on finishing her blocks as Ornaments (great idea), so I decided to stitch her a Christmas design from one of her favorite designers; Prairie Schooler.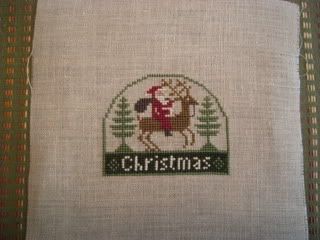 Prairie Schooler book #48
Fair & Square Exchange for Paula C.
Last week I received a wonderful gift in the mail. A very good friend of mine surprised me with this Twisted Oaks kit. It is absolutely gorgeous!!! While in Vermont I drove to The Whistling Duck, a great needlework shop in Williston, VT. I was able to purchase the fabric for this, but I will need to purchase the Dinky Dyes online before I can begin stitching.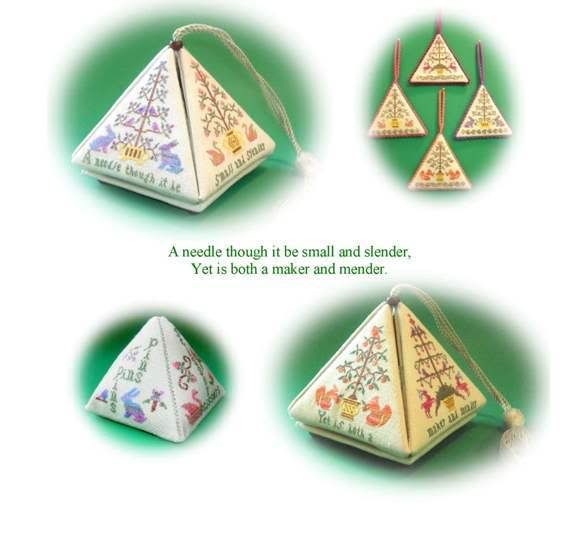 Twisted Oaks Design: Honor Thy Needle-Pyramid Etui
If you are in search of Needle Necessities floss, which is no longer in business, I know that the Whistling Duck has some in stock. they do not have a website but you can phone them and place an order. The shop owners are so nice and extremely helpful.
I had a bit of a mishap with the finishing of one of my PIF's (pay it forward). I stitched part of an AMAP design, on white linen using red silk, with plans to finish it as a scissor holder. I am not sure where my head was, but I placed the piece (wrong side up) on my ironing board to press out any wrinkles. For some reason I got "wacky" with the spray bottle and almost drown the piece. After pressing it, mounting it onto cardboard, and preparing the back piece, I sandwiched it together and placed it under some heavy books. The next day I returned to my sewing room ready to stitch on the cording. To my shock I saw that the red from the thread had migrated onto the white linen UGH!!! With a Q-tip in hand I thought that maybe I could blot it out...no such luck. What would I do now? I know, I will wet it and try to get the thread to bleed all over the fabric. Would it look like hand-dyed fabric? I wish, but NO it looked worse. What would I do now? Throw it out! Yup, that's what I did. Sadly, someone out there would have been receiving their PIF, but must now wait until I stitch up a new one.

Some helpful hints for cross stitch can be found at The Caron Collection, Jay's Stitching Hints , and Bonnie's Cross Stitch Zone, Needlework FAQ's.

Thanks for stopping by. It is always so nice to read your comments and to see that someone new has visited!
Until next time...