During this busy time of year I am forced to limit the number of exchanges that I participate in however, there are a few that I can't resist. I recently sent out my last exchange for 2007, it was sent to
Cathy
. Having heard that she received it, I can now post pictures. I decided to stitch this stocking ornament for her.
USEBB: Ornament Exchange 2007
Designer: Nutmeg Needle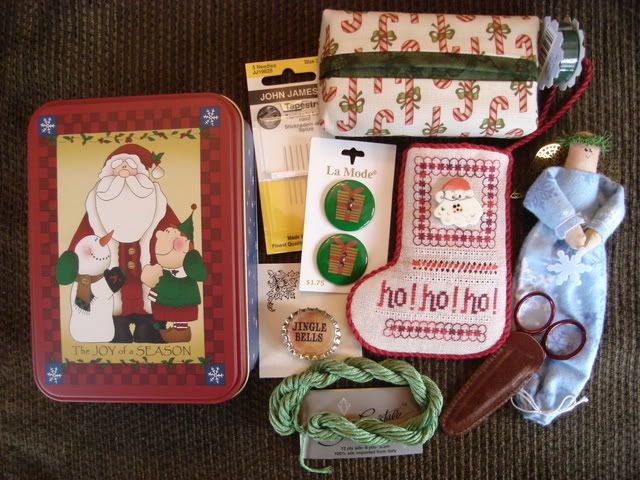 USEBB: 2007 Ornament Exchange - Stitched for Cathy B.
If you are interested in making a Tissue Holder, like the one that I sent in my exchange to Cathy, you can get the
instructions here
. They are very easy to make and are a great way to use up those fabric scraps.

I have successfully completed 21 exchanges during 2007, most of them with USEBB, SBEBB, Seasonal Stitchers, and Fair & Square, . I have received so many gorgeous exchanges from Amber, Autumn, AmySC, Barbara, BeckyK, BeckySC, Carol, Carolynn, CathyB, Chris, Goldie, Heather, Helen, Isabelle, Juanita, Julianne, Katrina, Nicki, Paula, and Vonna. Let me again thank each of you for the time you spent stitching and finishing these beautiful pieces. I will forever treasure them!
A huge thank you to BeckySC for including me in the wonderful groups you manage. I look forward to participating in your 2008 exchanges!
A huge thank you to Vonna and Annemarie for including me in the Fair and Square Exchange. This is an amazing group of talented stitchers/friends!

During this extra busy time of year I know that it is difficult to find the time to read blogs. I truly appreciate your stopping by and commenting.