After a busy day, I arrived home to find a wonderful package waiting for me. Carol sent me a truly spectacular exchange! She stitched a design from my very favorite Prairie Schooler and did a beautiful job finishing it as a pinkeep Christmas Ornament. I promise you Carol, this ornament will be hung "front and center" on my Christmas tree for everyone to enjoy!
Design: ABC Santa Ornament
Designer: Prairie Schooler
Received from: Carol


Carol's exchange package was filled with so many extras; adorable snowman coasters, scented candle wax melt, a ½ yard of very pretty red fabric, a much needed notepad and sticky notes, as well as a Mary Garry pattern, and the Vermont Hearts of America kit ~FANTASTIC!
Thanks so much Carol, your thoughtfulness brought much happiness into my day!!!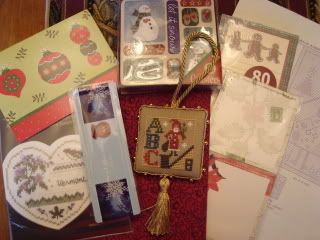 USEBB: 2007 Ornament Exchange
Although I did not meet the November 1st deadline for completing block #2, I was able to complete it by the December 1st date.
Village of Hawk Run Hollow Block #2
Carriage House Sampling
Rather than stitch "I-s-i-a-h" I made a few minor adjustments and I stitched it "I-s-a-i-a-h" ~ the correct spelling. It must be the perfectionist in me but this would have driven me nuts.
VoHRH Blocks #1 & 2


If anyone knows of errors/corrections on this chart I would appreciate it if you would let me know. Kathy, you had mentioned as error but I can't remember what it was. Will you email me or post it on your blog? Thanks!
ALL ABOUT CRAFTING
I have been tagged by
Heather
and as a result I will share with you some information on my life of crafting.
The rules are: Answer the following on your blog and then let five other bloggers know that you have tagged them to complete the meme.
1. When did you start to create and make craft?
Probably when I was about 8 or so. I can remember knitting a scarf for a very dear aunt who was moving from the Northeast to Florida…What was I thinking?
2. Why did you start creating?
It must be in my blood, I honestly do not know why. I certainly do not stem from a "crafty" family.
3. Why do you create?
Obsessive compulsive behavior perhaps(?) It makes me happy and content.
4. What do you create?
Quilts, all sorts of cross stitched items, redwork stitchery pillows, penny rugs, art dolls, and I have tackle the art of knitting socks.
5. Has this changed since you began crafting?

My interest in these different crafts changes with time. At present I would classify myself as an avid cross stitcher. A few years ago I was an avid quilter.
Now I need to tag some people for this meme. I will suggest a few names ~ If the urge overwhelms you feel free to play along: Donna, Jane, Kathy, Leena, and Pokua. Have fun!
A special thanks to the members of the Neighborhood RR that allowed me to jump in and join their group. I look forward to stitching with you. Thanks Vonna, for letting me kow about the available spot in this group!!! :)
Until next time...