A wonderful surprise arrived at my house today from
Heather
; she sent me a truly fantastic PIF! Heather is a quilter, which is one of the reasons that I love to read her blog. She shares pictures and information on cross-stitch and beautiful quilts. Heather stitched me a beautiful "chicken theme" table runner that I love and that goes great in my "Vermont" kitchen! The fabric is perfect, front and back...the backing fabric is yellow with a chicken wire print, great choice Heather. She cleverly packaged everything up in a Lang decorative rooster Box. The table runner, two note pads, a magnetic bookmark, and a small rooster box were tucked into the larger box. All of this is such a nice addition to my kitchen, I cannot thank you enough Heather. You are more than sweet, very generous, and a special blogging friend. :) Thank you, thank you, thank you!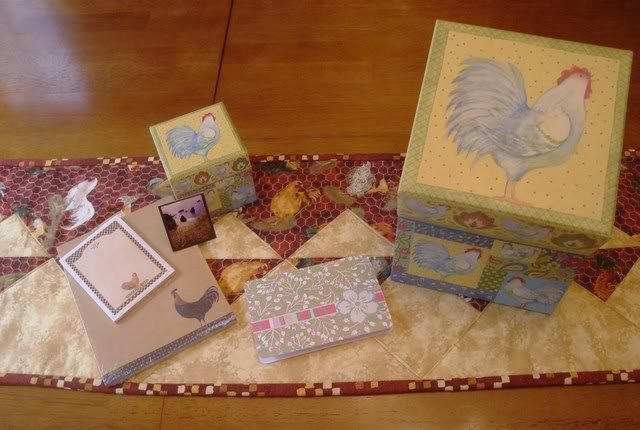 Today's quiz: What is the difference between a chicken, hen and rooster?
Answer
I know some of the people that read my blog have younger children so I thought I would share this kid friendly site. You will find activities like: Ask the Farmer, Coloring Pages, Computer Wallpaper, Discover 4-H, Homework Helpers, Online Games, Recipes for Fun, Safety First, See the Stars, Something Fishy, and lots more.
My flight leaves at 6:45am tomorrow, which means I will be up at about 3am (isn't that the time I go to bed???) to make the 1 hour drive to the airport. I will be in Houston by lunch time and my one month vacation will officially begin, as Vonna would say " WHOO HOOO" :)
Until next time...