I have returned from my one month visit to Houston, Texas and am busy playing "catch up" ~ I want to share some exchange pictures...
First I received a wonderful Fair and Square Exchange from
Neila
. She sent me a beautifully stitched "Spring" design, a wonderful half yard cut of fabric that compliments the design perfectly, Carrie's Creation hand dyed floss and some delicious chocolates. A huge thank you Neila for stitching me such a gorgeous block and for the wonderful extras that you included.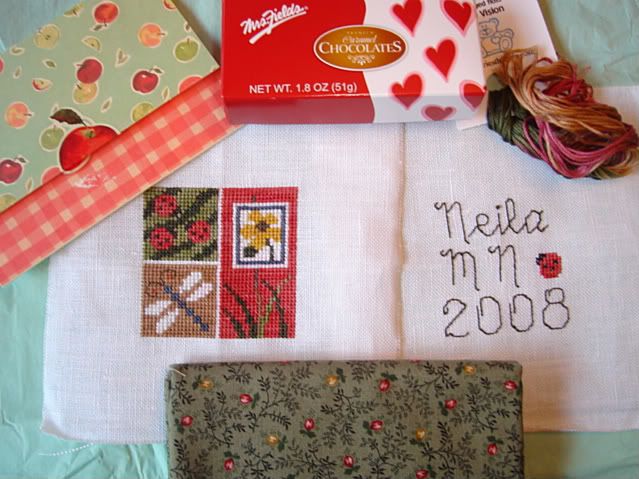 Designer: Lizzie Kate Flip-It Block; June

Fair & Square round #5 from Neila


Like me, Neila is a coffee lover so I decided to stitch her this LHN design:

Fair & Square for Neila
Designer: Little House needleworks
Design taken from: Coffee Menu

I sent out me Stitching Bloggers Birthday Club exchange to Cheryl, whose birthday was March 1st. I decided to stitch a Prairie Schooler design and finished it into a Stitcher's Caddy.
Designer: Prairie Schooler
Design: FRIENDS
Until next time...