I just love the Seasonal Exchange, it allows you to stitch for the same person four times during the year; Fall, Summer, Winter, and Spring. I have had the good fortune of receiving amazing exchanges from
Julianne
. I just opened this "Wonderful Winter Exchange...."
Seasonal Exchange ~ Winter
What a great box for storing my small stitching project! Julianne's stitching is absolutely flawless and her finishing is beautiful. She also included a magazine, recipe booklet, beautifully scented soap, a cute little Santa kit, some variegated floss and an organizer that is just perfect for my many small leaflets. Many thanks Julianne for this wonderful exchange, you always seem to stitch the perfect gift!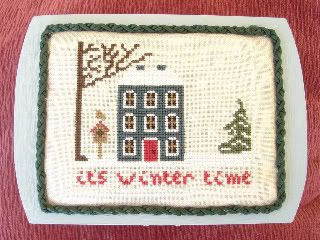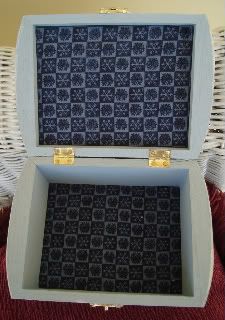 Leena
has received the Winter Exchange that I stitched for her so I am free to share pictures of that. I used a Prairie Schooler design and finished it off into a stitcher's caddy, take a look...
Seasonal Exchange ~ Winter

Stitched for: Leena

Stitcher's Caddy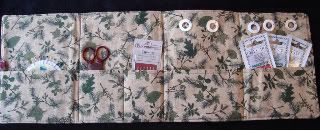 It is hard to believe that there is only one exchange left (Spring). I am so happy that Becky will be running this exchange again. Thanks Becky for all you do to make your exchange groups so fun and very successful. :)
I have just returned from Vermont and do hope to stay home long enough to complete the college quilt top that I am making for my son. I need to get this done so that I can drop it off to be quilted~ I will snap a few pictures of the top and post them soon.
Until next time...