Fortune truly does come to those that wait! For the past few year I have been looking for another female Yorkshire Terrier and am so happy to say that I found her ~ Meet Lily:
We picked her up a few weeks ago when she was 12 weeks old and she has certainly been keeping me busy. The timing of her arrival was perfect, we brought her home on a Sunday and both of my sons left for college on Tuesday. My house is certainly not as quiet or boring with Lily in it! But I must say that I really do miss G & D, and I let them know that almost daily! :)
Yesterday the postman delivered a package from Gaby which contained the
HOE
Needleroll Exchange. I was thrilled to see her name on the envelope; she had filled a wish for me on the MAW board and stitched up the most gorgeous Biscornu. I quickly tore open the package and gazed upon an equally gorgeous Needleroll. I had to smile because it is the very same design that I stitched for my partner, I do believe that we are not the only ones that selected this popular design. Every detail is simply perfect ~the stitching, the beading, the finishing! I do wish that I could finish the top/bottom edges as nicely as you do Gaby, I just may need a few tips from you on that!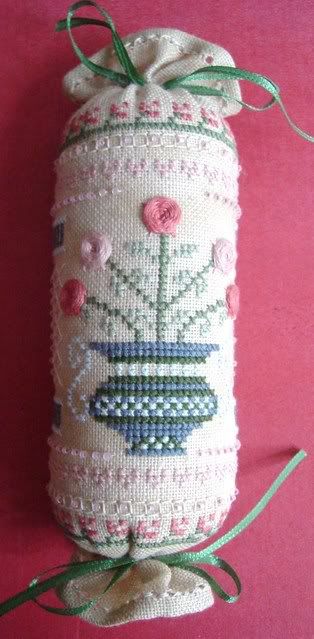 HOE: Needleroll Exchange
Designer: M Designs
Design: Five Roses Needle Roll
Stitched by: Gaby

In addition Gaby included some wonderful extras she stitched the most adorable little Biscornu scissor fob, this little gem measures a mere 1 ¾ across! I have stitched and finished hundreds of items but never have I made a Biscornu and certainly could not imagine making one this small. Thank you Gaby for that little treasure and for the Flower Pot stitching kit, the Heart for finishing, and the large cut of 32 count linen which will be perfect for a Halloween design. My life is a bit hectic these days and I must say that you managed to brighten my day with all of these wonderful treasures, thank you so much!
Tiny Biscornu Fob



I have heard from
Margaret
that she received my Needleroll exchange so I will share a picture of that:
HOE: Needleroll Exchange
Stitched for: Margaret S.



I participated in a Small Santa Exchange on the Prairie Schooler Fans Yahoo Group and here is what I stitched for CJ:

PS Friends Small Santa Exchange
Designer: Prairie Schooler
Design: St. Nicholas II – Book 36


And for your viewing pleasure (I cannot resist) I will leave you with another picture of the Princess and the Pea (Misha and Lily)...
Misha age 11 years
Lily age 15 week
Until next time...