I am so excited to have received such a wonderful ornament from
Valerie
! She tells me that this is her first pillow finish, hard to believe seeing as it is so nicely finished. The design is from the November 2008 Gift of Stitching ~ I recognized it immediately since it tops my list of projects from this issue! Valerie stitched the ornament on 32ct Lakeside Linen Vintage Light Examplar using Crescent Colors (Cupid). It is perfect and I love what she did on the reverse side, take a look...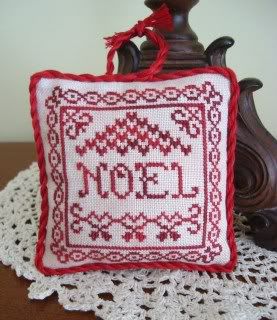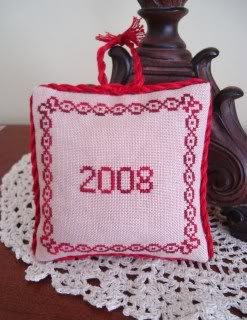 In addition I was treated to this lovely array of extras.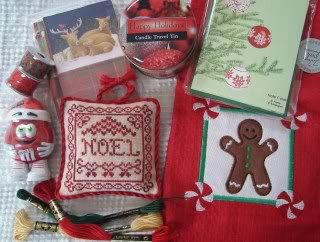 HOE Ornament Exchange from Valerie

Many thanks Valerie for this wonderful exchange, you certainly made my day!
My friend just had her very first grand baby (a baby girl) and here is the baby quilt that I made.
Khloe's Baby Quilt


My younger son arrived home from college and I am anxiously awaiting the return of my older son who is busy with finals. He is expected home on Friday, that is if the weather holds out. We are expecting icy conditions but nothing like what those in MA, NH, and parts of VT are dealing with~that is truly dreadful!
I was watching Martha Stewart prepare this potato recipe and I have decided that I will include it in our holiday meal this year. What I like about it is you can prepare it ahead of time and bake it later. The recipe is courtesy of chef Emeril Lagasse and can be found in his cookbook, "Emeril's Potluck."
Ingredients
10 tablespoons unsalted butter
4 cups thinly sliced onions
2 1/2 teaspoons coarse salt
1 1/4 teaspoons freshly ground black pepper
5 pounds red bliss or Yukon
Directions
1) Preheat oven to 400 degrees.

2) Melt 2 tablespoons butter in a large skillet over medium heat. Add onions and cook, stirring frequently, until caramelized, about 30 minutes. Season with 1/2 teaspoon salt and 1/4 teaspoon black pepper. Transfer onions to a large bowl and let cool.

3) In the same skillet, melt 2 tablespoons butter over medium-high heat, and cook a quarter of the potatoes until lightly caramelized, about 5 minutes. Season with 1/2 teaspoon salt and 1/4 teaspoon pepper. Transfer to a platter and let cool. Repeat process three more times with remaining butter, potatoes, salt, and pepper.

4) Arrange a quarter of the cooled potatoes in a slightly overlapping single layer in a 9-by-13-inch baking dish. Top with a third of the onions and sprinkle 1 teaspoon thyme over the dish. Layer another quarter of the potatoes over onions and thyme and top with another third of the onions and 1 teaspoon of thyme. Repeat process and finish with a layer of potatoes.

5) Pour chicken stock over potatoes and transfer baking dish to oven. If you like you can refrigerate until ready to bake...
6) Bake for 25 minutes; reduce oven temperature to 350 degrees, and continue baking until potatoes are golden brown, about 30 minutes more. Remove from oven and let cool 10 minutes before serving.
I know that you are all quite busy so I thank you for taking the time to stop by ~ I do hope that you are able to find a few minutes to sit and stitch!
Until next time...