Life has kept me busy and I am finding it difficult to set aside time to blog but I must take a minute to share pictures of a number of exchange pieces that I received and sent...

This is what I stitched for Carol R for the HOE Ornament Exchange:

Stitched for Carol R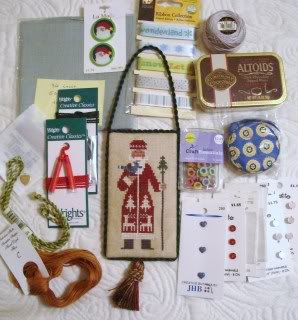 I participated in an ornament exchange with the Prairie Schooler group and received a wonderful exchange from Cyndi. Thanks so much Cyndi, I just love my new ornament and look forward to hanging it on our tree. Thanks for the wonderful extras that you included.
PS Ornament Exchange from Cyndi
And here is what I stitched for Cyndi: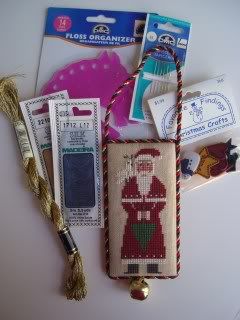 Below are three of the latest Fair and Square exchange pieces that I received. Many thanks to Nicky, Melissa, and Sue!


FAIR AND SQUARE EXCHANGE
F&S Round #9 from Nicky
F&S Holiday Round from Melissa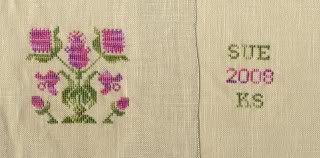 F&S Round 10 from Sue
And here are two of the F&S Exchanges that I sent out: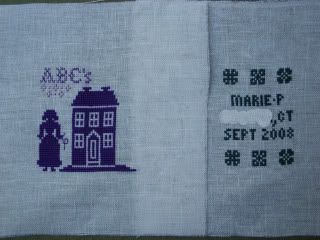 Fair & Square Round #9 For Nicky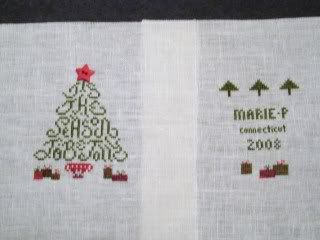 F&S Holiday for Melissa


I must wait until Sue receives her F&S round #10 before posting a picture.
Since returning from Texas I have been busy trying to finish some Quilting UFO's! I guess you could say that attending the Quilt Festival served to spark my passion for quilting. I have completed the top to my Flannel quilt, which is quite a large quilt (98" x 112"), and I picked up the Baby Quilt from the quilter and have put the binding on. I will show pictures of both in a later post.
As for stitching I have spent the last two days trying to organize my pattern stash. A visit to Staples yesterday left me organizing until about 3AM but I did get quite a bit accomplished ~yahoo!
It is hard to believe that I have no more exchanges due in 2008. I am keeping busy stitching a few Christmas gifts for friends and spending Friday nights stitching on VOHRH with the Let's Stitch Group.
Have a wonderful weekend.
Until next time...