As promised, I will share with you the many beautiful exchanges that have been rolling in...
The first Exchange arrived all the way from New Zealand. It was beautifully stitched and finished into a Bourse by Margaret S. My very first Bourse and it is a beauty!
Blackbird Design Exchange
BBD Exchange

Design: My Pink House

Finish: Bourse
Margaret also stitched a very cute Scissor Fob using the strawberry design pictured and she even included those great scissors! She made the matching pincushion and included needles, sticky notes, quilter's wheel, and scented bath bag.
Thank you again Margaret for this fantastic exchange.
Here is what I stitched for Ronel in the BBD Exchange:
FTT: BBD Exchange
Threads:
VMST
(love this thread)
Finish: Floss Tag
Seasonal Exchange ~ Spring
My second FTT Exchange traveled all the way from Germany and was stitched by Gaby M. She selected a design from one on my favorite designers, Prairie Schooler, and finished it into a two-flanged pillow ~ how cute is this...
FTT: Seasonal Exchange ~ Spring
Designer: Prairie Schooler
Finish: Pillow
As you can imagine the box that arrived was quite large and packed with so many extras: A magazine, book (it is always exciting to receive these from other countries), fabric x 2, silk thread, honey soap, delicious candy, a cute little ladybug for my key chain, and last but not least a very special bookmark made by Simon!
Thank you so much Gaby for the extra special exchange!
Here is what I stitched for the FTT Seasonal Exchange:
FTT: Seasonal Exchange ~ Spring
Designer: Blackbird Design
Threads: VMST
Stitched for: Gaby M.
Finish: Floss Tag
Look familiar? I just love this design and love stitching it, I really do! I love it so much that I am offering a "give-a-way" just so that I can stitch it again. :D Post a comment and leave your first/last initial and I will include you in the July 4th drawing for the Blackbird Design Floss Tag.
The third exchange arrived from Canada and was stitched by Wendy B. She stitched for me in the Prairie Schooler All Year Long Exchange and I could not be happier, just take a look:
PS All Year Long #2
Finish: Needle Book
I love the Needle Book finish, it is perfect for this design. I really like Wendy's technique and recently used it to complete a needle book for a patriotic exchange. The PS All Year Long is one of my favorite exchanges. I love that we always stitch a PS design and am happy that we do not include extras. A special thank you to
Becky SC
for organizing this exchange group.
Thank you again Wendy for the beautiful, and much needed, needle book!
Here is what I stitched for the PS All Year Long Round #2 exchange:
PS All Year Long #2
Design: Prairie Fairie
Stitched for: Janet H.
Finish: Pinkeep
Here is what I sent to
Jen R.
~
And what I sent to
Jenn F.
~
And the beautiful squares that Jenn F. sent my way...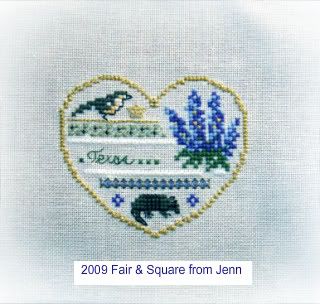 Fair & Square round #13
I am anxious to try Jenn's hand dyed threads, they look beautiful! I love that Jenn stitched the Texas heart, thanks again Jenn!
This was a long post but I had so many exchange pictures to share...thanks for hanging in till the end!
I am off to work on a Penny Rug project.
Until next time...