What, no stitching pictures???
Nope,
not today ~ sorry. Please indulge me, if only for a second, as I share these memorable moments...
VILLANOVA UNIVERSITY
COLD AND DAMP BUT NO RAIN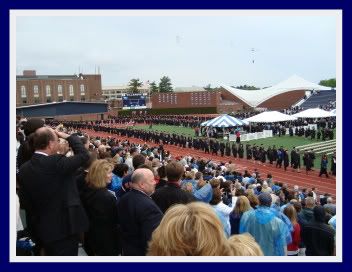 GRADUATING CLASS OF 2009
A QUICK WAVE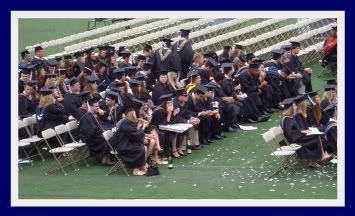 I love this picture of my son and his girlfriend (she too was graduating from the School of Business). The night before graduation I asked my son to mark the top of his Cap so that I would be able to identify him in the crowd...actually the "shades" did the trick...Well, to my surprise, he did mark his Cap with a message for me: "Thanks A
Bajil
" ~
It is still so very hard to believe that he has graduated, where did the time go? My very dear friend told me when he entered High School that it would fly by; she failed to tell me that his college years would go by even faster. For those of you that will be sending your DS/DD off to college this fall, hang on it's a fast ride!
I returned home to find three wonderful exchanges that I am anxious to share so stay tuned I will be sharing pictures of them in my next post.
Until next time...