On
Christmas Eve, a package arrived in my mailbox from Lisa…Who is Lisa? I truly had no idea what was in the box. When I opened it up, I found this: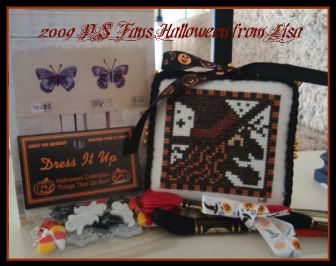 PS Fans Halloween Exchange
Replacement stitched by:
Lisa
A
great PS Halloween Pinkeep, some adorable buttons, and some DMC floss. I was so surprised when I read Lisa's note and learned that when she read about the MIA stitcher on the PS Fans blog she immediately contacted the moderator and offered to step in and stitch an exchange piece for me. I must say that was so thoughtful and such a generous gesture on her part! Although we were in the same exchange, I did not know Lisa nor had I ever visited her blog but she found it in her heart to stitch me a wonderful pinkeep. With all that she had to do during this busy holiday season she still volunteered to "make right" another person's "wrong" ~ Lisa, you are a stitching angel and I cannot thank you enough. I will treasure your pinkeep; it will be a constant reminder of your selfless generosity.
One
of the last exchanges that I mailed out for 2009 was an Ornament to BeckySC. I know how Becky loves snowman so I stitched this design for her:
2009 Ornament Exchange
Stitched For:
BeckySC
Sampler Winter by Marika Belfiori ~ Freebie
I
put a musical button inside that, when pressed, plays Frosty the Snowman. I also added a cute silver mitten/snowflake charm to the front.
Now
that I have actually put needle to fabric and stitched most of the PS "A" block, I feel like an official member of the
PS Alphabet SAL
group. With much of this block completed I look forward to stitching the remaining 25 letters!!!
Designer: Prairie Schooler
Design: A*B*C
Wondering what this will look like when completed? Check it out.
Wishing you only good things in the New Year~

Until next time...