How happy was I to open Joan's package and gaze upon this?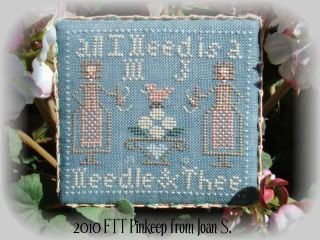 Oh, how I love designs by Mary Garry and this one is wonderful. Joan selected a design titled, "Remember Me" and added our initials. Seeing this Pinkeep put a big smile on my face! Thank you so very much Joan for this fabulous exchange!
I sent out two exchanges and will be mailing two more tomorrow. I must wait until they are received before I can share the pictures. I am happy to say that I have met all of my exchange deadlines ~ Wahoo. The question is do I go looking for more??? Hmmmm….
In addition to all of the cross stitch that I have been doing I have been busy with some crafting, here are just a few items that I have completed:
Easter Table Mat
Easter Candle Mat


Thread Holder

Pot Pinchers (pot holders~I Love these!)
Thank you for your kind comments on my Feather Tree. I must find time to begin the Purple Tree so that I can display it for Easter.
Until next time...