My sons flew from the northeast to New Orleans on a Habitat for Humanity Volunteer trip. They have done this a number of times but this is the first time that we were able to meet them there. Now that we live in Texas the drive was a mere 350 miles and well worth it to spend a few days exploring the French Quarters and visiting with them both. I had only driven through Louisiana but never had the opportunity to see New Orleans; here are just a few pictures: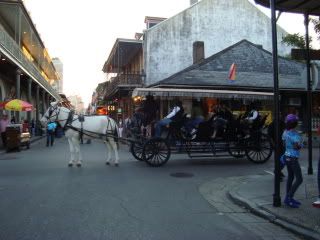 My son warned me that I would not like Bourbon street…he knows me well, I did not but I did enjoy the French Market and the many street performers.
I had the opportunity to stand in an endless line of people at the popular
Café Du Monde
so that we could enjoy coffee and beignets. Yes, I did indulge but was unwilling to go on camera eating these high calorie treats but I was quick to snap these: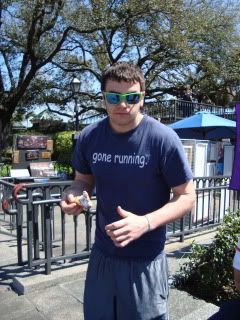 Always clowning around and making us laugh my younger son posed for a picture with his New Orleans girlfriend: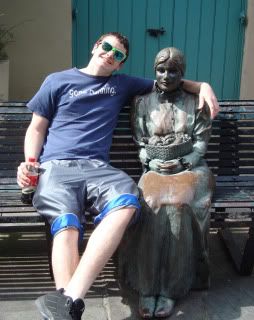 Like any true stitcher, I spent more time packing up my "cross stitch" bag for this trip but I did not work on one thing the entire weekend.
I did learn that my Easter Exchange had arrived so I can share pictures of the Flat Fold that I sent to Julianne:
Design: Easter Tree
Finish: Flat Fold
I stitched the same design for my dear friend Paula C. as an Easter surprise:
Designer: Nouveau Encore Design
Design: Easter Tree
Stitched For: Paula C.
Finish: Flat Fold
I am a bit concerned that the ornament I stitched for the March Ornament Exchange may have gone missing in the mail. I mailed it 2/24 and still have not heard a thing so it does not look promising, I will however keep my fingers crossed as the moderator checks into this for me!
That's it for today, thanks for dropping by and please do come back again!
Until next time...