3 French Hens... cute, cute cute! I just received a RAK from one of the dearest stitchers that I know, sweet Carol S.

What a surprise it was to open Carol's package and gaze upon this whimsical

ornament: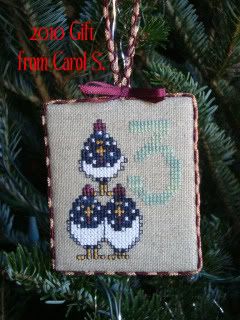 Designer: Sisters And Best Friends
Design: 3 French Hens
Finish: Ornament
How cute are these little hens all decked out in French Maid's costumes?

I shall smile and think as I place this ornament on my tree every year. Thank you my dear friend for this thoughtful RAK, you touched my heart in a very special way.