Quiet? Yes, I have been very quiet and this is probably because I have done
very
little stitching.
Yesterday
Edgar
gave me a truly SWEET reason to blog. I received an unexpected package in the mail that I anxiously opened. I am not signed up for any exchanges and I had not made any recent online purchases so I could not imagine what this package held. When I opened it and read the card I immediately said to my DH, "Edgar is so sweet!" He sent me the most delicious chocolate covered cherries, a jar of Peach Jam that I am sure is delicious, and white chocolate candy filled with dried cranberries and nuts...SWEET. With every bite, my brain screamed FABULOUS!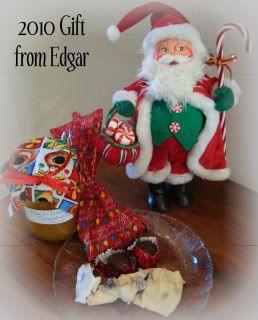 Thank you Edgar for being so thoughtful. You made my day that much sweeter and put a much needed smile on my face! :D
So, what has kept me busy these days? A little bit of this and a little bit of that. I have decorated my house for the holiday starting with this new wreath for the door.
The mantel is decorated with my small collection of
Byers Choice Carolers
...
Here is a closer look:
I will save the other pictures for another post.
Lastly, I have been busy rearranging my sewing room in preparation for the arrival of my newly purchased
Koala Sewing center
. I purchased this at the International Quilt Festival in October and can hardly wait until it is delivered this month. I am keeping my fingers crossed that they will be able to maneuver the 400-pound table up my curved stairway.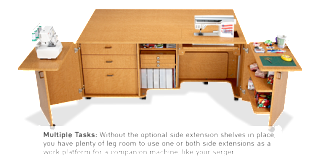 For now my sewing room is a
MESS
and I must get up there and work on organizing all of my "stuff"