The December rush is upon us and like so many others I have been busy preparing for the holiday season. At our house part of the holiday season includes my birthday, which is celebrated just days after Christmas. Last week a package arrived from my dear friend Vonna and when I opened it I found a beautiful Birthday surprise...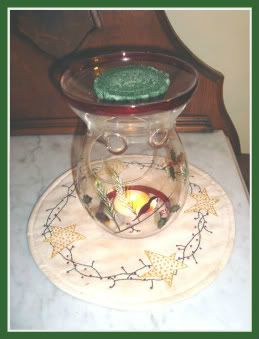 A wonderful Yankee Candle Tart Warmer. This is so pretty and the Holiday Pine scented tart serves to put Christmas in the air; the scent is perfect and oh so nice.
I also found a very special item tucked inside, this handmade birds nest...
I saw Vonna's post on these cleverly crafted little birds nest ornaments and loved them. I especially loved the German Legend behind the nest:
An Old German Legend tells of the magic of all the world's birds bursting into song, as if with one voice, the night the Christ child was born. If a family's Christmas tree contained a birds nest, they would be granted the gift of health, wealth and happiness throughout the year. It is our hope that this little nest adorns your tree and the legend may come true for you.
Vonna's gift arrived the very day that I was planning to decorate the tree so it became the 1st one placed onto our tree. My hope is that the German Legend holds true and we are granted the gift of health, wealth, and happiness in 2012; I am a believer.
Thank you dear Vonna for the birthday gifts and for always being such a shining light in my world!
Have you seen the fabulous pincushions on Cathy's Blog? Oh my word, I just love these and I let her know it. I immediately emailed to order one and was lucky enough to receive this beauty...
Cathy's Mom does the gorgeous tatting and Cathy constructs the pincushion, what a talented team! I am such a huge fan of "Mom's" tatting and am so excited to have yet another piece of her handwork. Thanks Cathy/Mom for filling my order and selecting a beautiful Pincushion for me, I love it.
The HOE blog had a Christmas Box Exchange that I signed up for. I was a bit reluctant to sign up given the mail date was December 1st, oh such a busy time of the year! Well, I bit the bullet and committed (not too difficult to talk myself into an exchange on the HOE blog, I love them) then I set out to complete this exchange in a timely fashion. Here is what I sent to Lucy:
HOE Christmas Box Exchange
Designer: Plum Street Sampler
Design: Yuletide
Design From: 2011 JCS Ornament Issue
Here is a picture of the inside:
I received my Christmas Box Exchange from Jayne P...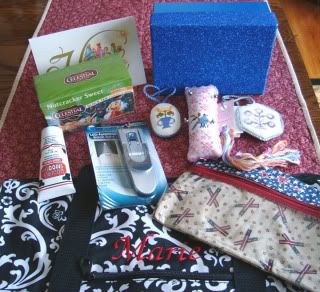 HOE Christmas Box Exchange
Thank you Jayne, I appreciate it.
The day has passed all to quickly as I spent much of it uploading pictures and updating my blog so I shall end now and get some "gift" stitching done. Why do I always manage to spend December rushing to complete these stitching gifts??? Yes, yes I shall try harder next year to get a jump start on my holiday stitching.
Wishing you a wonderful holiday.