I am playing "catch up" so I have lots to share…
I participated in a Personal Exchange with Yuko and recently received a rather large box filled to the brim with some amazing items. There was so much in the box that it was difficult to photograph everything. When I opened the box this is what I saw…
I could barely believe my eyes and was not sure if there was a bottom to this box.

The items just poured out: hand dyed fabric, three fat quarters, two wonderful scissors, lace trim, covered buttons, jumbo clips, rose petal bath soap, two fantastic patterns, and so much more!
In amongst all of this treasure was this beautifully stitched exchange piece...
How pretty is that?

Yuko is an amazing stitcher/finisher, her work is absolutely perfect.

I have longed for a piece of her needlework and I am honored to display this in my new home.

Thank you from the bottom of my heart Yuko for this extra special exchange I shall treasure it.
The next exchange piece arrived from Jenn F. I must say that it is the perfect design to display in my Vermont house...
Now that winter is upon us I feel as if I should delve right in and finish this beauty.

Jenn and I were partnered in the Fair & Square round #27 exchange.

I have been collecting F&S blocks for quite some time but have yet to decide what to do with them.

Should I put them all in one Friendship quilt or should I finish each one separately? Hmm, still can't decide.
Do you see the beautiful beaded scissor FOB? Jenn gifted me with that gorgeous gift as well, how lucky can one person get. Thanks again Jenn you are a very special blogging friend.
Stitching for Jenn is relatively easy, she loves nautical designs.

Here is what I selected for her…
Designer: Of Generations Past
Design: Christmas Lighthouse
The third exchange piece rolled in just a few days ago.

This one is from the HOE Words of Christmas exchange and was stitched by Sadie…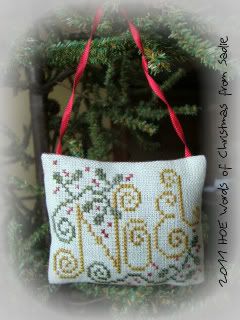 Thank you Sadie, this ornament will look beautiful on my Christmas tree.
Here is what I stitched and sent to Gabi...
Designer: Birds of a Feather
The last project that I will share is the gift that I stitched for my cousin for Thanksgiving.

I love this design and hope to stitch it again for myself.

This probably will not happen until later next year since I have lots of stitching do before Christmas.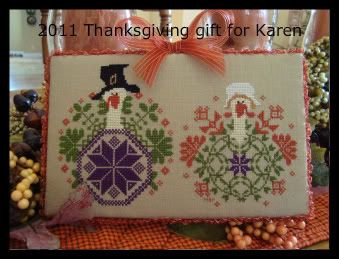 Well, the boys were here for Thanksgiving but have left.

One headed back to NYC and the other back to college.

It is so nice to be within driving distance of them…Texas was just too far away! As always we had a great Thanksgiving holiday with our relatives.

This year we had another reason to be truly thankful:

O

n Monday my youngest son (who graduates May 2012) had a 2nd interview for an Engineering position in a large company here in the Northeast, and the day before Thanksgiving the company extended an offer to him which he intends to accept.

I am so happy and proud of him, he returned to school to begin his final semester knowing that he will graduate with a job...that is certainly a reason to be thankful!
Thank you to VP, LR, KC, MK, CD, MC, RT, and Garrett :) for all of those PRs.
Thanks for taking the time to stop by.