I received a beautiful exchange from Nancy K. who stitched for me in the HOE Prairie Schooler Ornament exchange. Like so many others I am a huge fan of all of the PS designs, this one tops my list of favorites.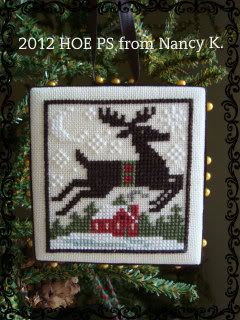 2012 HOE PS Ornament
Stitched by: Nancy K.
Nancy's work is always so perfect. I am very thankful for the time she spent stitching and finishing this for me. Thank you Nancy, I have your ornament hanging on the tree in my family room so I will enjoy it all year!

I participated in the FTT Birthday Exchange and was partnered with Melissa E., who has an April birthday. Here is what I stitched for her:
2012 FTT Birthday Exchange
Designer: Eventide Designs
Design: Grandma's Pin Poke
I wanted to do something different with the finishing so I purchased a small hand mirror and mounted the stitched piece on it. Happy Birthday Melissa E.!
My family spent Easter with my relatives, it is always so fun to get together with them. I stitched an Easter design to gave it to my cousin, who hosted the event at her house. Once again I managed to find a cute Annalee doll to display the design.
2012 Easter Gift for Tricia
I have been busy stitching an 50th Wedding Anniversary gift that needed to be complete by early May. Thankfully I finished it and it is being framed....Phew! Here is a picture of the mounted, but not yet framed piece:
Designer: Historical Sampler Company
Design: Family Tree Sampler
Stitched for: 50th Wedding Anniversary
My DS will be graduating from college next month and I can hardly believe it. Those college years go by so quickly. I will be starting a small sampler type cross stitch design to mark the event. Once done I will hang it on the sampler wall in my new house:
That's about it for today. Thanks for stopping by ~
Until next time...